That blog title is the worst pun I've ever made, isn't it?
If you're new around here, Things I've Read Recently is a series of posts I do that are basically mini-reviews of books that I either forgot to review, didn't have enough to say for a full review, or just didn't want to do a full post about for whatever reason. Since sequels have spoilers even in the summary, I like to dump them into one big post you can either binge or skip entirely. It took forever for me to get a bunch of sequels, though, so some of these are pretty old! They're been waiting very patiently, though.
Books in this post include Unmade by Amy Rose Capetta, Killer Instinct and All in by Jennifer Lynn Barnes, Ms. Marvel Volume 2, and Lumberjanes Volume 4. Let's get to it!
Unmade by Amy Rose Capetta
Published:
January 13th, 2015 by HMH Books for Young Readers
Genre:
YA Science Fiction
Binding:
Hardcover
Page Count:
373 plus the acknowledgements
Part of a series?
Yes, it is the sequel to Entangled, and you can find my mini-review of that
here
.
Got via:
The library - I told you I was going to order the sequel!
Amazon
/
Book Depository
/
Indiebound
Summary (from goodreads):
Cadence is in a race against time and space to save her family and friends from the Unmakers, who are tracking the last vestiges of humanity across the cosmos. As the epic battle begins, Cade learns that letting people in also means letting them go. The universe spins out of control and Cade alone must face the music in the page-turning conclusion to Entangled.
Thoughts:
Re-reading my review of the first book to refresh my memory, it seems like one of my biggest complaints was the over-the-top worldbuilding. This definitely does not go that way. Honestly, if you go into this one having not read the first one, you are going to be so lost. But in a sequel, I think that works so much better. You get into the action right away. Most of the world-building is either immediate stuff, or is in a lot of the slang and casual language about spaceships and stuff, and it's so much easier to get into.
My other big complaint seemed to be Cade's lack of wanting stuff and motivation, and that is also done better in this one than the other. Cade has way more motivation in this one! She wants romance and family stuff and to keep her friends safe and to defeat the bad guys. I said in the review of the first book that I thought a lot of things would be done better in the second, and I was not wrong at all. Many things that are smoother, and tighter, and just better in this one. The character relationships are great in this - I especially love how there are some wonderful female friendship moments.
The romance again isn't overwhelming - romance fans will enjoy the romantic subplot, but if you're not one, it definitely isn't the main plot. I think it's a really different, unique romance, and I love that Cade has sex and isn't punished for it, or shamed for it, or treated badly for any reason related to sex. It's handled in a fairly realistic and very positive way, and I love that in YA books. There's also a queer couple as a side couple, and (SPOILER) the book does NOT go the
Dead Lesbian
route! Because, man, I would have taken off so many points for that. You get points instead, book! Good job.
Let's see... actually, again I have a couple notes where I was prepared to not be so happy about things, and then the book addresses those things in the narrative, so that's good. The language is a little more figurative in this one. There's a moment where literal bombs go off (that's not really a spoiler) and I didn't actually realize it, and had to go back and reread because I thought it was just a metaphor. That only really happens the once, but it can still get a little over the top at other times.
For the most part, though, I quite enjoyed this. It definitely improved on the first one, I didn't have any huge complaints, and I look forward to seeing what else the author comes up with in the future. I think her writing improved from the first book, and will continue to improve as her career goes on. This is thoroughly enjoyable. I'm not all five million stars, but it was definitely good. I also really enjoy that this is just a duo, and not a trilogy or more. It works perfectly as two books, and I don't think you see that too often.
(Months later 2017 edit: I read at least two and maybe three different duologies in 2016! Is this a trend? I kind of enjoy it.)
Definitely recommend giving these two a look!
I'm going to just put the next two as one review since my thoughts on both are pretty similar, and summarizing will be easier than writing essentially the same thing twice. I will post all the information and blurbs, though, before my thoughts.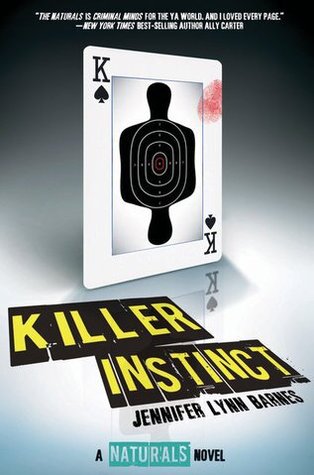 Killer Instinct by Jennifer Lynn Barnes
Published:
November 4th, 2014 by Disney-Hyperion
Genre:
YA Thriller
Binding:
Hardcover
Page Count:
375 plus acknowledgments
Part of a series?
Yes, this is the second book in the Naturals series, and you can read my review of
the first book here
.
Got via:
The library.
Amazon
/
Book Depository
/
Indiebound
Summary (from goodreads):
Seventeen-year-old Cassie Hobbes has a gift for profiling people. Her talent has landed her a spot in an elite FBI program for teens with innate crime-solving abilities, and into some harrowing situations. After barely escaping a confrontation with an unbalanced killer obsessed with her mother's murder, Cassie hopes she and the rest of the team can stick to solving cold cases from a distance.
But when victims of a brutal new serial killer start turning up, the Naturals are pulled into an active case that strikes too close to home: the killer is a perfect copycat of Dean's incarcerated father—a man he'd do anything to forget. Forced deeper into a murderer's psyche than ever before, will the Naturals be able to outsmart the enigmatic killer's brutal mind games before this copycat twists them into his web for good?
All In by Jennifer Lynn Barnes
Published:
November 4th, 2015 by Disney-Hyperion
Genre:
YA Thriller
Binding:
Hardcover
Page Count:
376 plus acknowledgements
Part of a series?
Got via:
The library again of course.
Amazon
/
Book Depository
/
Indiebound
Summary (from goodreads):
Three casinos. Three bodies. Three days.
After a string of brutal murders in Las Vegas, Cassie Hobbes and the Naturals are called in to investigate. But even with the team's unique profiling talents, these murders seem baffling: unlike many serial killers, this one uses different methods every time. All of the victims were killed in public, yet the killer does not show up on any tape. And each victim has a string of numbers tattooed on their wrist. Hidden in the numbers is a code—and the closer the Naturals come to unraveling the mystery, the more perilous the case becomes.
Meanwhile, Cassie is dealing with an equally dangerous and much more painful mystery. For the first time in years, there's been a break in her mother's case. As personal issues and tensions between the team mount, Cassie and the Naturals will be faced with impossible odds—and impossible choices.
Thoughts:
I really, really enjoy these books. I read both of these in one day, and as close to in one sitting as you can get with over 700 pages. I mean, I had to get up to pee and stuff, but I read as much as I could, and had real trouble putting them down to make dinner. Pretty much all the good stuff I said in my review of the first book is still true. Everything is still exciting and creepy, and the FBI/crime elements are fascinating. The cover of both of these have the same quote comparing this to Criminal Minds, and it really is a good description, because it does totally have that vibe.
It's been a while since I read the Naturals, and it was easy to catch-up and remember what had happened, and there was a little bit of catching up done in Killer Instinct, but not so much as to be annoying. They're both super fast-paced, and I had such trouble putting them done while I was reading. A couples times I guessed what was going to happen, but it makes you feel good about guessing what was going on. It feels like you're really clever for figuring things out, not like things are predictable.
The characters are still pretty darn awesome. I like how in each book, we seem to be diving a little more into the other character's backstories, and found out a little bit more about them in each book. So far, each book seems to focus on a different character in a way that drives/is related to the plot, and I have a guess about who Naturals 4 will be about, but I won't say it because spoilers, but I have a theory! And if I'm right, I'm going to be really excited, because I really like that character. Cassie is also a great narrator and main character. She's great, and I really like hanging out in her head. The issues she deals with are super interesting, too.
Also, there is kind of a love triangle in this, but it doesn't annoy me. I think it has to do with how it's presented - there isn't this huge relationship that's all built up until another person showed up. Cassie met two people at once and was attracted to both of them, which is perfectly reasonable, and then dated neither until she figured out what she wanted. Nobody was in a committed relationship, or anything like that. I actually think it's more realistic for a young character to be attracted to multiple people, on average, than the one true love. The whole thing also isn't drawn-out forever over like six hundred books, so that works really, really well.
Also, the jokes the other characters make about it can be really funny.
On occasion I have a complaint (like certain characters should probably not be able to share foundation, and also what teenager calls foundation "base" anymore?, the characters are not described physically as well as they could be at times, the book is pretty darn white, and why do the girls always have to be the same size?), but they're rare enough that I really don't have much, and they don't affect my overall enjoyment.
Seriously, Hyperion, let's be friends. I NEED Bad Blood as soon as possible.
Lumberjanes, Volume 4: Out of Time by Noelle Stevenson, Shannon Watters, Brook Allen and Marta Laiho
Published:
This bind-up was released July 12th, 2016 by BOOM! Box
Genre:
Comic
Binding:
Paperback
Page Count:
Goodreads says 112
Part of a series?
This is the fourth bind-up of Lumberjanes, containing issues 14-17
Got via:
The library.
Amazon
/
Book Depository
/
Indiebound
Summary (from goodreads):
The mystery of history!
Jen just wants a normal lesson with her cabin, teaching Jo, April, Mal, Molly, and Ripley the basic survival skills needed without any supernatural intervention. But when a blizzard hits camp, Jen finds herself separated from the girls and in more trouble than ever... until a mysterious taxidermist swoops in to save the day. Who is she and what is her relationship to Rosie? Join Jen as she finds a way back to her girls, and a way to save the day!
Thoughts:
I get like embarrassingly excited at the library whenever I get one of these. These are like balm to my soul. There are so many women in these, and it feels so good to read. I love how when, occasionally, the Scouting Lads show up, they are so much a statement against toxic masculinity. This volume goes into some of the history of the camp, and that is incredible and so cool.
So much good stuff happens in this one, and it's so queer, and I don't want to spoil it. Just know how much I adore these. I can't wait for the next one. It's soon, right? *googles* OH MY GOD IT COMES OUT ON MY BIRTHDAY.
(2017 months later edit: I think I already have a hold on the next one from the library. They take a while to get here because they're so popular though. SO EXCITE.)
Okay, I think that's everything. Now I can finally get it posted! Poor Unmade has been waiting since like August or something.
Thanks for reading!
Peace and cookies,
Laina