This is a series where I look at my old Waiting on Wednesday posts and talk about if I actually ever did read the book, if I liked it if I did, and if I haven't, would I still or not. That kind of thing. I think it's an interesting idea, and I hope you do, too.
WoWed August 14th, 2009:
Evil? by Timothy Carter
Release date:
August 1th, 2009
Summary (from
goodreads
): Stuart Bradley knows there are a lot of reasons people in his small, conservative hometown might not approve of him. He's openly gay, he's mouthy in church, and he conjures demons in his spare time—the usual. So Stuart knows something is odd when his little brother catches him "self-pleasuring" in the shower and, before he knows it, an angry mob is chasing down every teen who ever had an "impure" thought.
Stuart soon discovers that the new preacher in town is more than he seems. He's a fallen angel-fallen because he became too obsessed with a certain harmless adolescent activity. If Stuart and his demon sidekick don't stop him, blindness is going to be the least of anyone's worries.
Update:
I had to double check that date because yeah, I WoWed it after it came out, lol. I was doing a themed post and you all know how I am with the themes. This does sound kind of unique, but I'm just not that into angel/demon books anymore.
Hush Hush by Becca Fitzpatrick
Release date:
October 13th, 2009
Summary (from goodreads):
Romance was not part of Nora Grey's plan. She's never been particularly attracted to the boys at her school, no matter how hard her best friend, Vee, pushes them at her. Not until Patch comes along. With his easy smile and eyes that seem to see inside her, Patch draws Nora to him against her better judgment.
But after a series of terrifying encounters, Nora's not sure whom to trust. Patch seems to be everywhere she is and seems to know more about her than her closest friends. She can't decide whether she should fall into his arms or run and hide. And when she tries to seek some answers, she finds herself near a truth that is way more unsettling than anything Patch makes her feel.
For she is right in the middle of an ancient battle between the immortal and those that have fallen - and, when it comes to choosing sides, the wrong choice will cost Nora her life.
Update:
I read this, I reviewed it, I bought a copy in addition to my ARC, and I'm not linking to my review because it is embarassing, lol. I had like no critical bones in my body back then. Ah, how things have changed.
Covet by J. R. Ward
Release date:
September 29th, 2009
Summary (from goodreads):
Redemption isn't a word Jim Heron knows much about—his specialty is revenge, and to him, sin is all relative. But everything changes when he becomes a fallen angel and is charged with saving the souls of seven people from the seven deadly sins.
And failure is not an option.
Vin DiPietro long ago sold his soul to his business, and he's good with that-until fate intervenes in the form of a tough-talking, Harley-riding, self-professed savior. And then he meets a woman who will make him question his destiny, his sanity, and his heart—and he has to work with a fallen angel to win her over and redeem his own soul.
Update:
I'm not really interested in this series/concept anymore, and I'm a bit more selective about my reading choices in genre romance these days.
WoWed August 19th, 2009:
Inside Out by Maria V. Snyder
Release date: April 1st, 2010 by Harlequin
Summary (from goodreads):
Keep Your Head Down.
Don't Get Noticed.
Or Else.
I'm Trella. I'm a scrub. A nobody. One of thousands who work the lower levels, keeping Inside clean for the Uppers. I've got one friend, do my job and try to avoid the Pop Cops.
So what if I occasionally use the pipes to sneak around the Upper levels? The only neck at risk is my own…until I accidentally start a rebellion and become the go-to girl to lead a revolution.
Update:
I never got around to reading this, but I probably wouldn't intentionally seek it out. Just a bit of YA dystopian exhaustion in general. If I found it at a secondhand book sale, I'd probably grab it, though.
Harmonic Feedback by Tara Kelly
Released:
May 19th, 2010
Summary (from goodreads):
Sixteen-year-old, music- and sound design-obsessed Drea doesn't have friends. She has, as she's often reminded, issues. Drea's mom and a rotating band of psychiatrists have settled on "a touch of Asperger's."
Having just moved to the latest in a string of new towns, Drea meets two other outsiders. And Naomi and Justin seem to actually like Drea. The three of them form a band after an impromptu, Portishead-comparison-worthy jam after school. Justin swiftly challenges not only Drea's preference for Poe over Black Lab but also her perceived inability to connect with another person. Justin, against all odds, may even like like Drea.
It's obvious that Drea can't hide behind her sound equipment anymore. But just when she's found not one but two true friends, can she stand to lose one of them?
Update:
I think I have a bookmark or something for this in my book swag shoebox. Apparently
the autism rep
in this is pretty good, so that's neat. No plans to seek this out, but nothing against it.
WoWed August 25th, 2009: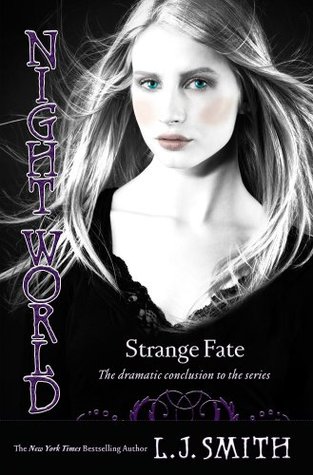 Strange Fate by L. J. Smith
Release date:
To be discussed in the update.
Summary (from goodreads):
Sarah Strange is a normal teenager with annoying siblings and a crush on two boys, Mal and Kierlan, who happen to be her best friends. But Sarah also has visions of a place where dragons darken the sky and feast on humans.
When Sarah confides in Mal and Kierlan about her visions, she discovers her friends are not who they seem. They are part of the Night World. And they believe Sarah must help establish peace and harmony between humans and creatures of the Night World to stave off the apocalypse.
And if Sarah's visions are any indication of the danger, destruction, and devastation that the apocalypse will bring, there is no time to lose…
Update:
So I never read this but neither did anyone else? I have what I think is this whole series stuffed in my fireplace (it's not a working fireplace, don't worry) and I'd totally finish it with this one, but apparently this was supposed to be released in 1998 originally? My WoW post says April 6th, 2009, and goodreads in 2014 said a possible 2015 release, and there's even a cover that matches the others from the original series on
Amazon
. Apparently the original release was supposed to be 1998.
Chapters has it with a release date of 2030. Last update from the author about it seems to be in 2012, and she hasn't updated her blog since 2016. Seems like she had some major health issues during 2015, so hopefully she's doing better these days.
I would totally buy this if ever came out, but who knows if that actually will happen.
Wish by Alexandra Bullen
Release date:
April 1st, 2010
Summary (from goodreads):
If you could have anything, what would you wish for? The impossible...or a real chance at being happy?
Olivia Larsen's twin sister, Violet, is dead. Olivia knows nothing that can change that . . . until the day she receives a beautiful dress. The dress doesn't just look magical: it has the power to grant wishes. And all Olivia wants is her sister back.
But Violet's return isn't what Olivia expected. As love, secrets, betrayal, and a haunted past collide, Olivia begins to wonder what a wish is worth . . . and if her life will ever look the same.
Update:
So, this didn't actually have a cover when I WoWed it, and I actually think the cover does the book a disservice? I don't like it at all. The
French cover
is way better. Honestly I think the book still sounds good, but I wouldn't grab that cover, personally. It just does nothing for me and looks very generic. The premise sounds good, though.
Dark Secrets 2: No Time to Die; The Deep End of Fear by Elizabeth Chandler
Release date:
May 4th, 2010
Summary (from goodreads):
In No Time to Die, the drama is deadly. Jenny is going undercover for the summer at the theater camp where her sister, Liza, was murdered just a year earlier. Though Jenny is still grieving the loss of her sister and feels completely out of place on stage, she is determined to discover why Liza was murdered—and more importantly, who killed her. Soon she thinks she hears Liza speaking to her, and suspects someone may be following her. The drama is even more twisted than she thought….
In The Deep End of Fear, Kate thought she was done with daring adventures after her childhood friend Ashley tragically drowned in an icy pond. But when she returns to her childhood home, it all comes flooding back. To stop history from repeating itself, Kate must face the childhood fears that have haunted her for so long
Update:
I actually got an original run of Deep End of Fear that my library weeded. I've read some of this series in the past, and I own the first bind-up, but I would really love to get the full series of this. I should stick them on my amazon wishlist. It seems like the kind of thing that would fit around here in one of those series review posts I do, or something like that.
Thirst No. 1: The Last Vampire, Black Blood, and Red Dice by Christopher Pike, which are books 1-3 of the Last Vampire series
Summary (from goodreads):
As to blood -ah, blood, the whole subject fascinates me. I do like that as well, warm and dripping, when I am thirsty....
Alisa has been in control of her urges for the five thousand years she has been a vampire. She feeds but does not kill, and she lives her life on the fringe to maintain her secret. But when her creator returns to hunt her, she must break her own rules in order to survive.
Her quest leads her to Ray. He is the only person who can help her; he also has every reason to fear her. Alisa must get closer to him to ensure her immortality. But as she begins to fall in love with Ray, suddenly there is more at stake than her own life....
Thirst No. 2: Phantom, Evil Thirst, and Creatures of Forever by Christopher Pike, which contains books 4-6 of The Last Vampire
Summary (from goodreads):
Tears roll over my face. I touch them with my quivering tongue. They are clear and salty, not dark and bloody. Another sign that I am human.
What Alisa has desired for five thousand years has finally come true: She is once again human. But now she is defenseless, vulnerable, and, for the first time in centuries, emotional.
As she attempts to reconcile her actions as a vampire with her new connection to humanity, she begins to understand the weight of life-and-death decisions. Can Alisa resolve her past and build a new identity, or is she doomed to repeat her fatal mistakes?
Update:
I bought both of these. Did I read them? No XD But I did buy them both. I'd love to add to the collection and get 3-5 of the Thirst series that continue the series. And then maybe read them, but maybe not, knowing me, lol.
Okay, that's ten. This is
So I only read one of these, but one is impossible to read, and I did buy a few of the others? Kind of an interesting one, and I learned some stuff about the Night World book.
Have you read any of these? Any you think I should read or that I'm wrong about? Let me know in the comments!
Peace and cookies,
Laina