Yeah, there's not really a theme to this besides "books I enjoyed". I did decide to make this one solely YA, though, since I'm going to be making a separate MG list at some point.
Why fifteen? Dunno, that's how many I found.
Sidenote, this list is kinda whiter than it should be, honestly. That was one of the reasons that I personally wanted to focus more on intersectional queer books this summer, because yeah, that's something I need to do better at. As I remember, I will try to point out prominent characters of colours who aren't the MC where applicable 'cause... I feel like it's a good idea. I'm not putting any judgement on that, just stating it, for those of you who want to know. I apologize in advance for my horrible memory.
I'm also including the publication dates partly to fill space so the formatting looks better, but also because one of our bingo spaces is "a book published before 2017" and I have a handful on here!
Last, I want to mention that there aren't a lot of books with ace rep on here. Books with ace rep kind of take me a while to read. It's not super easy reading them, and they can hurt me really easily, so I'm often reluctant. Of the ones I've read, I haven't loved a lot of them, honestly. And some of the ones I like best are adult books, actually. (I may do another list of queer adult books I like. We'll see.) And I'm not even going to get into aro rep. I don't like this much either, but it's kind of the way it is for now.
These are arranged in no particular order.
The Summer of Jordi Perez by Amy Spalding
Released:
April 3rd, 2018
Summary (from goodreads):
Seventeen, fashion-obsessed, and gay, Abby Ives has always been content playing the sidekick in other people's lives. While her friends and sister have plunged headfirst into the world of dating and romances, Abby has stayed focused on her plus-size style blog and her dreams of taking the fashion industry by storm. When she lands a prized internship at her favorite local boutique, she's thrilled to take her first step into her dream career. She doesn't expect to fall for her fellow intern, Jordi Perez. Abby knows it's a big no-no to fall for a colleague. She also knows that Jordi documents her whole life in photographs, while Abby would prefer to stay behind the scenes.
Then again, nothing is going as expected this summer. She's competing against the girl she's kissing to win a paid job at the boutique. She's somehow managed to befriend Jax, a lacrosse-playing bro type who needs help in a project that involves eating burgers across L.A.'s eastside. Suddenly, she doesn't feel like a sidekick. Is it possible Abby's finally in her own story?
But when Jordi's photography puts Abby in the spotlight, it feels like a betrayal, rather than a starring role. Can Abby find a way to reconcile her positive yet private sense of self with the image that other people have of her?
The part where I talk:
Fat queer rep is something that is so ridiculously lacking. And this was one of my favourite books of the year so far, plus it's perfect for summer! It has an amazing summer feel. Can't recommend this one enough. Link to
review here
. This is one of my absolute favourite books in general, let alone for fat rep or queer rep.
The titular Jordi is Mexican.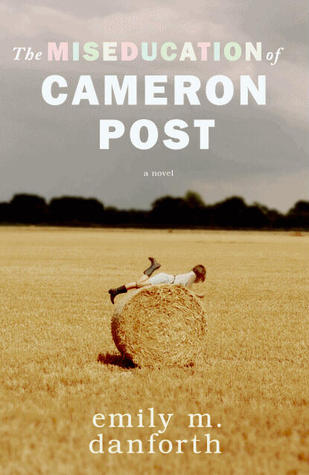 The Miseducation of Cameron Post by Emily M. Danford
Released:
February 7th, 2012 by Balzer + Bray
Summary (from goodreads):
When Cameron Post's parents die suddenly in a car crash, her shocking first thought is relief. Relief they'll never know that, hours earlier, she had been kissing a girl.
But that relief doesn't last, and Cam is soon forced to move in with her conservative aunt Ruth and her well-intentioned but hopelessly old-fashioned grandmother. She knows that from this point on, her life will forever be different. Survival in Miles City, Montana, means blending in and leaving well enough alone (as her grandmother might say), and Cam becomes an expert at both.
Then Coley Taylor moves to town. Beautiful, pickup-driving Coley is a perfect cowgirl with the perfect boyfriend to match. She and Cam forge an unexpected and intense friendship — one that seems to leave room for something more to emerge. But just as that starts to seem like a real possibility, ultrareligious Aunt Ruth takes drastic action to 'fix' her niece, bringing Cam face-to-face with the cost of denying her true self — even if she's not exactly sure who that is.
The part where I talk:
Did you know there's a movie coming out of this? This is a heavier book than you'd think it'd be (it deals with conversion therapy and grief among other things) and be careful with yourself reading it, but it's worth reading. It surprises me that this is only from 2012, because it kind of reminds me of a book from like the 90s in a way.
I know in the movie the actress who plays one of the main characters is Black and Maōri, and I cannot remember if that is also true in the book, because my memory is a sieve. Her other friend is Native and two-spirit, and I link to other people discussing that in
my review
, since that is super not my place.
Nimona by Noelle Stevenson
Released:
May 12th, 2015 by Harper Collins
Summary (from goodreads):
Nemeses! Dragons! Science! Symbolism! All these and more await in this brilliantly subversive, sharply irreverent epic from Noelle Stevenson. Featuring an exclusive epilogue not seen in the web comic, along with bonus conceptual sketches and revised pages throughout, this gorgeous full-color graphic novel is perfect for the legions of fans of the web comic and is sure to win Noelle many new ones.
Nimona is an impulsive young shapeshifter with a knack for villainy. Lord Ballister Blackheart is a villain with a vendetta. As sidekick and supervillain, Nimona and Lord Blackheart are about to wreak some serious havoc. Their mission: prove to the kingdom that Sir Ambrosius Goldenloin and his buddies at the Institution of Law Enforcement and Heroics aren't the heroes everyone thinks they are.
But as small acts of mischief escalate into a vicious battle, Lord Blackheart realizes that Nimona's powers are as murky and mysterious as her past. And her unpredictable wild side might be more dangerous than he is willing to admit.
The part where I talk:
This is more of a subtle queer story, which I talked about in
my review
, but it's good, and I really liked it. I like graphic novels and this one worked for me really well.
Under Threat by Robin Stevenson
Released:
March 1st, 2018 by Orca Book Publishers
Summary (from goodreads):
Franny is close to her parents, adores her horse and is head over heels in love with her girlfriend, Leah. But Franny's parents are abortion providers at the local hospital, and an anonymous stranger is prepared to do whatever it takes to stop them. A stranger who phones at all hours. Who knows where they live. Who knows Franny's name.
When Leah's older brother, Jake, refers to her parents as baby killers, Franny starts to wonder if perhaps the threats aren't coming from a stranger at all. If she tells the police about her suspicions, she could lose her girlfriend. But if she doesn't - and if she's right - she could lose her parents.
The part where I talk:
This is a hi-lo book, which means high interest, low readability. They're for selective readers. They are supposed to be short, easier to read, and highly interesting. And this is really good! I'd totally read more. One thing I really liked and talked about in
my review
is that it used the word queer positively, and I love seeing that in YA.
A Love Story Starring My Dead Best Friend by Emily Horner
Released:
June 10th, 2010 by Dial Books
Summary (from goodreads):
For months, Cass Meyer has heard her best friend Julia, a wannabe Broadway composer, whispering about a top-secret project. Then Julia is killed in a sudden car accident, and while Cass is still reeling from her death, Julia's boyfriend and her other drama friends make it their mission to bring to fruition the nearly-completed secret project: a musical about an orphaned ninja princess entitled Totally Sweet Ninja Death Squad.
Cass isn't one of the drama people. She doesn't feel at home with Julia's drama friends, and she doesn't see a place for her in the play. Things only get worse when she finds out that Heather Galloway, the girl who made her miserable all through middle school, has been cast as the ninja princess.
Cass can't take a summer of swallowing her pride and painting sets, so she decides to follow her original plan for a cross-country road trip with Julia. Even if she has a touring bicycle instead of a driver's license, and even if Julia's ashes are coming along in Tupperware.
Why I chose it:
I read this January 2015 so take
my review
with a grain of salt, but I do remember liking this. I kinda have a thing for this kind of book, and I don't think it falls into the Dead Lesbian trap? Mostly because I don't remember if Julia was queer. Like I said, it's been a while since I read it, but I think it avoids that, and I remember really liking this. Still think the cover's really neat, too.
Girls Made of Snow and Glass by Melissa Bashardoust
Release date:
September 5th, 2017 by Flatiron Books
Summary (from goodreads):
At sixteen, Mina's mother is dead, her magician father is vicious, and her silent heart has never beat with love for anyone—has never beat at all, in fact, but she'd always thought that fact normal. She never guessed that her father cut out her heart and replaced it with one of glass. When she moves to Whitespring Castle and sees its king for the first time, Mina forms a plan: win the king's heart with her beauty, become queen, and finally know love. The only catch is that she'll have to become a stepmother.
Fifteen-year-old Lynet looks just like her late mother, and one day she discovers why: a magician created her out of snow in the dead queen's image, at her father's order. But despite being the dead queen made flesh, Lynet would rather be like her fierce and regal stepmother, Mina. She gets her wish when her father makes Lynet queen of the southern territories, displacing Mina. Now Mina is starting to look at Lynet with something like hatred, and Lynet must decide what to do—and who to be—to win back the only mother she's ever known…or else defeat her once and for all.
Entwining the stories of both Lynet and Mina in the past and present, Girls Made of Snow and Glass traces the relationship of two young women doomed to be rivals from the start. Only one can win all, while the other must lose everything—unless both can find a way to reshape themselves and their story.
The part where I talk:
This wasn't one of my favourite books, but I liked it still, and it's the only fairy-tale retelling and mostly the only fantasy book on here, so we're including it. I think people who like fantasy more than me would like it more. I wasn't feeling good when I read it, so
my review
is like nothing, but it's a good retelling.
Gena/Finn by Hannah Moskowitz and Kat Helgeson
Release date:
May 17th, 2016 by Chronicle Books
Summary (from goodreads):
Gena (short for Genevieve) and Finn (short for Stephanie) have little in common. Book-smart Gena is preparing to leave her posh boarding school for college; down-to-earth Finn is a twenty-something struggling to make ends meet in the big city. Gena's romantic life is a series of reluctant one-night-stands; Finn is making a go of it with long-term boyfriend Charlie.
But they share a passion for Up Below, a buddy cop TV show with a cult fan following. Gena is a darling of the fangirl scene, keeping a popular blog and writing fan fiction. Finn's online life is a secret, even from Charlie. The pair spark an unlikely online friendship that deepens quickly (so quickly it scares them both), and as their individual "real" lives begin to fall apart, they increasingly seek shelter online, and with each other.
The part where I talk:
This is one of those cool books told in emails and texts and blog posts and stuff, and that's always really neat. I also totally understood a lot of the emotions in the book, as I said in
my review
. I still find the categorization of this super interesting, in that, while I understand why it's called YA (because marketing is weird), this is one of those books I think is actually what New Adult should be.
...I should make a list of THAT some time. "Laina's Books She Considers Actual New Adult Because She Has A Thing About That". Needs a catchier title, though.
Possibly I need a break now.
Okay, I ate some ice cream, let's get back to it.
Oh, and Gena is Jewish in this, and I believe there's some decent mental illness rep but again, mind like a sieve. I thought it was good though.
The Scorpion Rules by Erin Bow
Released:
September 22nd, 2016 by Margaret K. McElderry Books
Summary (from goodreads):
Greta is a Duchess and a Crown Princess. She is also a Child of Peace, a hostage held by the de facto ruler of the world, the great Artificial Intelligence, Talis. This is how the game is played: if you want to rule, you must give one of your children as a hostage. Start a war and your hostage dies.
The system has worked for centuries. Parents don't want to see their children murdered.
Greta will be free if she can make it to her eighteenth birthday. Until then she is prepared to die with dignity, if necessary. But everything changes when Elian arrives at the Precepture. He's a hostage from a new American alliance, and he defies the machines that control every part of their lives—and is severely punished for it. His rebellion opens Greta's eyes to the brutality of the rules they live under, and to the subtle resistance of her companions. And Greta discovers her own quiet power.
Then Elian's country declares war on Greta's and invades the prefecture, taking the hostages hostage. Now the great Talis is furious, and coming himself to deliver punishment. Which surely means that Greta and Elian will be killed...unless Greta can think of a way to break all the rules.
The part where I talk:
Whenever I mention this one, no one ever knows that it's queer. Greta is bisexual, as I believe is one of her love interests, and other characters are queer as well. One of Greta's love interests is Chinese, and the other is Jewish. Also, like, yeah there's sort of a love triangle in this, but it's handled so well and not typically at all, that it's not old or tired at all.
Also this is set in Canada, and the Swan Riders (which I also really like) is set in Saskatchewan, I believe. I
raved about
this one a lot lol.
How to Make a Wish by Ashley Herring Blake
Released:
May 2nd, 2017 by HMH Books for Young Readers
Summary (from goodreads):
All seventeen year-old Grace Glasser wants is her own life. A normal life in which she sleeps in the same bed for longer than three months and doesn't have to scrounge for spare change to make sure the electric bill is paid. Emotionally trapped by her unreliable mother, Maggie, and the tiny cape on which she lives, she focuses on her best friend, her upcoming audition for a top music school in New York, and surviving Maggie's latest boyfriend—who happens to be Grace's own ex-boyfriend's father.
Her attempts to lay low until she graduates are disrupted when she meets Eva, a girl with her own share of ghosts she's trying to outrun. Grief-stricken and lonely, Eva pulls Grace into midnight adventures and feelings Grace never planned on. When Eva tells Grace she likes girls, both of their worlds open up. But, united by loss, Eva also shares a connection with Maggie. As Grace's mother spirals downward, both girls must figure out how to love and how to move on.
The part where I talk:
This is another good summer read, too. Big feels in this one. I mentioned in
my review
how much I enjoyed how prickly Grace is. I like characters like that.
Eva is biracial in this, also.
Lumberjanes: Bewar the Kitten Holy, Vol 1 by Noelle Stevenson
Released:
April 7th, 2015 by BOOM! Box
Summary (from goodreads):
FRIENDSHIP TO THE MAX!
At Miss Qiunzilla Thiskwin Penniquiqul Thistle Crumpet's camp for hard-core lady-types, things are not what they seem. Three-eyed foxes. Secret caves. Anagrams. Luckily, Jo, April, Mal, Molly, and Ripley are five rad, butt-kicking best pals determined to have an awesome summer together...
And they're not gonna let a magical quest or an array of supernatural critters get in their way! The mystery keeps getting bigger, and it all begins here.
The part where I talk:
Really, I'm recommending the entire Lumberjanes series, but obviously you gotta start at the beginning when you start with these. This is one that takes a little while to get into its queer stride, but once it does, it's wonderful. I'm not gonna bother linking to a review here because I've read so many of these, lol.
Little and Lion by Brandy Colbert
Released:
August 8th, 2017 by Little Brown
Summary (from goodreads):
When Suzette comes home to Los Angeles from her boarding school in New England, she isn't sure if she'll ever want to go back. L.A. is where her friends and family are (along with her crush, Emil). And her stepbrother, Lionel, who has been diagnosed with bipolar disorder, needs her emotional support.
But as she settles into her old life, Suzette finds herself falling for someone new...the same girl her brother is in love with. When Lionel's disorder spirals out of control, Suzette is forced to confront her past mistakes and find a way to help her brother before he hurts himself--or worse.
The part where I talk:
I really liked this one, although I didn't think it was perfect, as I talked about in
my review
, but it's definitely good.
Suzette is Jewish and Black in this, also, and Emil is Korean/Black, plus other characters besides them.
Far From You by Tess Sharpe
Released:
March 27th, 2017 by Orion
Summary (from goodreads)
: Sophie Winters nearly died. Twice.
The first time, she's fourteen, and escapes a near-fatal car accident with scars, a bum leg, and an addiction to Oxy that'll take years to kick.
The second time, she's seventeen, and it's no accident. Sophie and her best friend Mina are confronted by a masked man in the woods. Sophie survives, but Mina is not so lucky. When the cops deem Mina's murder a drug deal gone wrong, casting partial blame on Sophie, no one will believe the truth: Sophie has been clean for months, and it was Mina who led her into the woods that night for a meeting shrouded in mystery.
After a forced stint in rehab, Sophie returns home to a chilly new reality. Mina's brother won't speak to her, her parents fear she'll relapse, old friends have become enemies, and Sophie has to learn how to live without her other half. To make matters worse, no one is looking in the right places and Sophie must search for Mina's murderer on her own. But with every step, Sophie comes closer to revealing all: about herself, about Mina and about the secret they shared.
The part where I talk:
Now this is one I don't think is for everyone, as it does play with certain tropes that I think some people may (completely reasonably!) be sensitive to, but it worked really well for me, as discussed in
my review
. I like this kind of book, and I really liked that it was a thriller.
People Like Us by Dana Mele
Release date:
February 27th, 2018 by G.P. Putnam's Books for Young Readers
Summary (from goodreads):
Kay Donovan may have skeletons in her closet, but the past is past, and she's reinvented herself entirely. Now she's a star soccer player whose group of gorgeous friends run their private school with effortless popularity and acerbic wit. But when a girl's body is found in the lake, Kay's carefully constructed life begins to topple.
The dead girl has left Kay a computer-coded scavenger hunt, which, as it unravels, begins to implicate suspect after suspect, until Kay herself is in the crosshairs of a murder investigation. But if Kay's finally backed into a corner, she'll do what it takes to survive. Because at Bates Academy, the truth is something you make...not something that happened.
The part where I talk:
This is kind of another one I don't think is for everyone but I really, really liked. I've got a thing for thrillers, apparently. The review of this should be live by the time this post goes up, so you can
check that out
here. I just really like this one.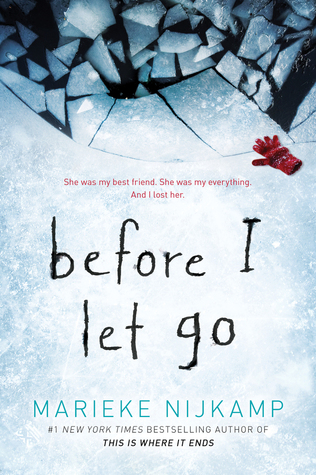 Before I Let Go by Marieke Nijkamp
Released:
January 2nd, 2018 by Sourcebooks Fire
Summary (from goodreads):
Best friends Corey and Kyra were inseparable in their snow-covered town of Lost Creek, Alaska. When Corey moves away, she makes Kyra promise to stay strong during the long, dark winter, and wait for her return.
Just days before Corey is to return home to visit, Kyra dies. Corey is devastated―and confused. The entire Lost community speaks in hushed tones about the town's lost daughter, saying her death was meant to be. And they push Corey away like she's a stranger.
Corey knows something is wrong. With every hour, her suspicion grows. Lost is keeping secrets―chilling secrets. But piecing together the truth about what happened to her best friend may prove as difficult as lighting the sky in an Alaskan winter...
The part where I talk:
This is the third dead best friend book on this list. I have
issues
apparently, because I
love
these books. Krya is pansexual, and mentally ill, so if you're not up for reading about the aftermath of her death, I completely get it, but I think that's handled very well, and the format of the book where it's not linear allows her to still have a voice and not be erased.
As I say in
my review
, I really, really like this except for one thing. COREY SHOULD BE LABELLED AROMANTIC. She SO is aro-coded in the book, but only labelled asexual, and IT'S SO OBVIOUS OH MY GOD.
*clears throat* So, besides that, this one kinda rang all the bells for me.
Shallow Graves by Kali Wallace
Release date:
January 26th, 2016 by Katherine Tegan Books
Summary (from goodreads):
Breezy remembers leaving the party: the warm, wet grass under her feet, her cheek still stinging from a slap to her face. But when she wakes up, scared and pulling dirt from her mouth, a year has passed and she can't explain how.
Nor can she explain the man lying at her grave, dead from her touch, or why her heartbeat comes and goes. She doesn't remember who killed her or why. All she knows is that she's somehow conscious—and not only that, she's able to sense who around her is hiding a murderous past.
Haunted by happy memories from her life, Breezy sets out to find answers in the gritty, threatening world to which she now belongs—where killers hide in plain sight, and a sinister cult is hunting for strange creatures like her. What she discovers is at once empowering, redemptive, and dangerous.
The part where I talk:
I think I read this for QSR last year, and
I adored it
. This is almost more horror than paranormal, even, and it's just creepy and weird and I loved it. I want so many more queer paranormal books like this.
So that's fifteen books I liked!! Tell me some of your favourites in the comments.
Peace and popsicles,
Laina