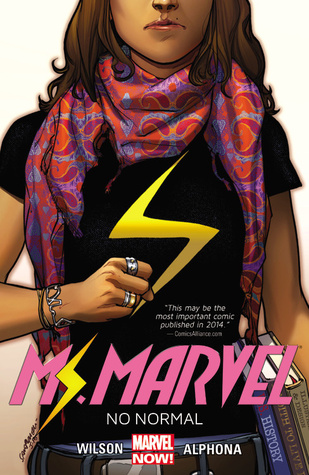 Ms. Marvel, Volume 1: No Normal by G. Willow Wilson and Adrian Alphona
Published:
Each comic was obviously released indiviually with this bind-up released October 15th, 2014
Genre:
YA Comic book
Binding:
Paperback
Page Count:
Goodreads says 120, so we'll go with that because there aren't any numbers on the pages.
Part of a series?
This is a bind-up of the first five issues of Ms. Marvel.
Got via:
The library.
Amazon
/
Book Depository
/
Indiebound
Summary (from goodreads):
Kamala Khan is an ordinary girl from Jersey City — until she's suddenly empowered with extraordinary gifts. But who truly is the new Ms. Marvel? Teenager? Muslim? Inhuman? Find out as she takes the Marvel Universe by storm! When Kamala discovers the dangers of her newfound powers, she unlocks a secret behind them, as well. Is Kamala ready to wield these immense new gifts? Or will the weight of the legacy before her be too much to bear? Kamala has no idea, either. But she's comin' for you, Jersey!
Thoughts:
I took like no notes on this, and this is probably not going to be a really amazing review. The art is so cool in this, from the action to the background characters to Kamala's design to the general atmosphere of the city. Everyone's talked about how awesome this series is, so I'm just going to say I enjoyed it a ton, and I can't wait to read more.
I will be ordering as many volumes as I can get my little hands on from the library for sure. In fact I may have interrupted this review to do that.
Also can I talk about how much I appreciate how Kamala is drawn? She's thin, and yeah, it would be nice to see more fat characters (there are actually fat background characters in this, though!), especially superheroes, but her body is not overly-sexualized the way many teen comic book characters are (*cough*
Darkchylde
*cough).
This series is, and is going to be, so important to so many people, and I'm just happy it exists. Also, if you have a fan of Legend of Korra in the house, try this, because I think people who like Korra will like Kamala. I can't wait for more.
Supergirl: Cosmic Aventures in the 8th Grade by Landry Q. Walker and Eric Jones
Published:
December 29th, 2009 by DC Comics as far as I can tell
Genre:
Comic
Binding:
Paperback
Page Count:
144
Part of a series?
This bind-up is a six-part mini-series spun off of what I think is the "Tiny Titans" comic series. As far as I can tell from researching, the six comics in this are the entire thing.
Got via:
Library.
Amazon
(which is like 7 dollars, so if you need a gift...) /
Book Depository
/
Indiebound
Summary (from goodreads):
Meet Linda Lee! She's the newest kid on the block-and the planet, too! Find out how an ordinary girl from Krypton became the most extraordinary girl on Earth in the pages of this brand new monthly series. And if you think life is tough as a hero, try being in the eighth grade.
Thoughts: This is cute. I was looking for early readers about Supergirl for a Storytime (of which there is a huge lack!) and this showed up in the search results on the library website. I watch the show Supergirl, so this is a bit of a different continuity than I'm used to, but I think it explains it just fine and I didn't have trouble following anything.
This is definitely aimed at a younger audience. It's more Archie Comic than Ms. Marvel. It's definitely been well-loved, though, because the copy I got from the library is super beat-up. It's a fun way to spend a little time, and I think it would be great for young superhero fans. No real complaints here.
A Terrible Plan by Noelle Stevenson, Shannon Watters, Carolyn Nowak, and Maarta Laiho
Published:
April 5th, 2016 by BOOM! Box
Genre:
YA comic book
Binding:
Paperback
Page Count:
Goodreads says 112
Part of a series?
This is volume three of the Lumberjanes bind-up, containing issues 9-12.
Got via:
The library.
Amazon
/
Book Depository
/
Indiebound
Summary (from
goodreads
): IF YOU GOT IT, HAUNT IT!
Trying to take advantage of the first quiet day at camp in a while, Mal and Molly's date takes a bizarre turn with the appearance of the Bear Woman! Back at camp, Jo, April, and Ripley must stay on their toes as they try and earn every badge possible, which ends up being a lot harder than any of them ever planned.
Thoughts:
This might actually be my favourite bind-up that I've read yet, and I absolutely adored the first issue in this, the If You Got It, Haunt It Badge one (although I keep calling it Ghost Stories in my head). That issue is made up of several stories from different characters, and the stories reflect their personalities and voices amazingly. Each of them has a slightly different art style reflecting their voices and it's
so
clever.
Also in this one THEY MAKE SUBTEXT INTO TEXT. Mal and Molly go on a date and they call it that!!!! Head kisses guys *dies* There are head kisses. I am not strong enough to express how much I love this.
Both the A-plot and the B-plot are great in this little arc, and I seriously loved this so much. Highly recommended.
Orphan Black by John Fawcett, Szymon Kudranski, Graeme Manson, Jody Houser, and Cat Staggs
Published:
September 23rd, 2015 by IDW Publishing
Genre:
Adult comic book
Binding:
Paperback
Page Count:
124 pages
Part of a series?
This is a bind-up of the "The Clone Club" series. There is also a follow-up series called Helsinki. (Or at least that's near as I can figure out.)
Got via:
The library.
Amazon
/
Book Depository
/
Indiebound
Summary (from
goodreads
): Sarah's life was changed dramatically after witnessing the suicide of a woman who looked just like her. Sarah learned that, not only were she and the woman clones, but there were others just like them, and dangerous factions at work set on capturing them all. Now, the mysterious world of Orphan Black widens, with new layers of the conspiracy being peeled back in this series by co-creators John Fawcett and Graeme Manson!
Thoughts:
I really like the TV show Orphan Black. It's one of my favourite shows, and when the new seasons come out, I watch them in about a day and a half because I have absolutely no impulse control with them. This comic series does a very good job of capturing the feel of the show, which really is an accomplishment. This doesn't continue any of the arcs started on the show, but it does show a lot of backstory, going into the past of each of our main Clone Club clones.
If you haven't seen the show, I don't think you're going to get a lot out of this. There's no real plot at all, and I think the draw in this really is learning a little more about characters that you already enjoy. And if you have seen the show, just make sure you're caught up or you might run into spoilers. As an extra, though, it's a lot of fun, and this series is pretty much self-contained, so you're not going to have to track anything extra down. Also just to be clear, this is definitely an adult show and while the comics are less explicit, they are still adult in tone and nature. Use your discretion, guys. I'm not your mom.
So basically if you're an Orphan Black fan, I'd recommend giving this a shot. The art is beautiful, and I really enjoyed this.
And I think that's it for this post!
Peace and cookies,
Laina