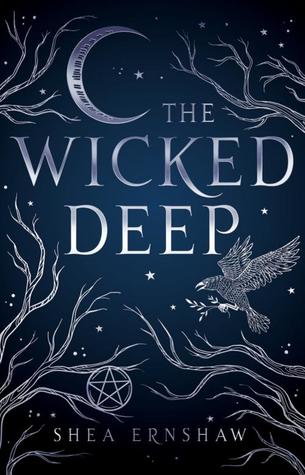 The Wicked Deep by Shea Ernshaw
Published:
To be released March 6th, 2018 by Simon Pulse
Genre:
YA Paranormal
Binding:
ARC
Page Count:
308 plus acknowledgements in the ARC, but the info and goodreads says 320 so probably that.
Part of a series?
Nope.
Got via:
It was sent to me for review consideration.
Amazon
/
Book Depository
/
Indiebound
Summary (from goodreads):
Where, two centuries ago, three sisters were sentenced to death for witchery. Stones were tied to their ankles and they were drowned in the deep waters surrounding the town.
Now, for a brief time each summer, the sisters return, stealing the bodies of three weak-hearted girls so that they may seek their revenge, luring boys into the harbor and pulling them under.
Like many locals, seventeen-year-old Penny Talbot has accepted the fate of the town. But this year, on the eve of the sisters' return, a boy named Bo Carter arrives; unaware of the danger he has just stumbled into.
Mistrust and lies spread quickly through the salty, rain-soaked streets. The townspeople turn against one another. Penny and Bo suspect each other of hiding secrets. And death comes swiftly to those who cannot resist the call of the sisters.
But only Penny sees what others cannot. And she will be forced to choose: save Bo, or save herself.
Review:
Well, this was unexpected. I hoped this would be good, but I wasn't expecting to like it
this
much. While there's a few things I didn't like, a lot of it worked really well for me. First, the atmosphere is amazing. It's set in summer, but the book feels cold and damp. It comes out in March, which is also cold and damp, and you should totally read it in March, but it woul also be great to read in October around Halloween. I've seen a lot of comparison to Hocus Pocus and I don't really like that movie so that's not a direction I'd go in personally, but it definitely has a spooky, creepy feeling.
I actually don't want to say too much about this one because I don't want to spoil it. There's a few things in here that really surprised me and I spent a couple minutes just staring into space shocked.
And also eating cheesecake, because, you know. Cheesecake.
This has some ableism with mental illness not exactly being handled super well, and it's really lacking in pretty much any kind of diversity. What happens to gay or aromantic boys in this town? Do people notice lesbian girls suddenly flirting with boys? I feel like that would be a bit of a tip off. Kind of ignoring some ideas there that could really be interesting. Basically everyone besides like two characters is white, cis allo straight, thin, and abled. I also thought the romance was pretty sudden and a little overdramatic at times. Might work for some people, but not so much for me.
In general, I think that's the theme of the book. I don't think this one is going to be for everyone. If you don't connect to the voice, you probably won't like this as much. Luckily for me, I did and I had a really good time reading it. I liked it, and I would recommend it as a fun read, especially on a rainy day or around Halloween. It's missing some depth but overall is an enjoyable read. I'm going to take a rose off for being not the least bit diverse, so three and a half roses.
This is a super short review, but I really don't want to spoil things, and anything I talked about would really be a spoiler. Oh, I love the cover, though. It's really pretty, and the silver parts are actually holographic. Super pretty.
Peace and cookies,
Laina