I haven't seen if anyone likes this series yet, really, but I've got a bunch of these posts written because I got carried away, and I don't have an interesting answer to the BBH question this week, so let's do this!
I probably need a real intro for these. Let's see. This is a series where I look at my old Waiting on Wednesday posts and talk about if I actually ever did read the book, if I liked it if I did, and if I haven't, would I or not. That kind of thing. I think it's an interesting idea, and I hope you do, too.
WoWed June 17th, 2009:
The Mark by Jen Nadol
Release date:
February 1st, 2009
Summary (from goodreads):
Sixteen year old Cassandra Renfield has seen the mark since forever: a glow around certain people as if a candle were held behind their back.
The one time she mentioned it to someone else, the mark was dismissed as a trick of the light. So Cassie has kept quiet, considering its rare appearances odd, but insignificant. Until the day she watches a man die. Mining her memories, Cassie realizes she can see a person's imminent death. Not how or where, only when: today.
Cassie searches her past, her philosophy lessons, even her new boyfriend for answers, answers, always careful to hide her secret. How does the mark work? Why her?
Most importantly: if you know today is someone's last, should you tell them?
Update:
I haven't read this, but I own it and I probably will. Eventually. Still sounds good!
WoWed June 24th, 2009:
Dragonfly by Julia Golding
Release date:
October 20th, 2009
Summary (from goodreads):
Princess Taoshira of the Blue Crescent Islands is appalled when she is ordered to marry Prince Ramil of Gerfal. And he's not too pleased, either. She is used to a life of discipline, ritual, and splendor. He is used to hunting and carousing. They hate each other on sight. But both of their countries are under threat from a fearsome warlord, and the only chance of peace is to form an alliance.
When Tashi and Ram are kidnapped, they fear there's no escape--from their kidnappers or from each other. Can they put aside their differences long enough to survive ambush, unarmed combat, brainwashing, and imprisonment? And will the people they meet on their adventure--including a circus strongman, a daring rebel leader, a sinister master of spies, and the best female fighter they have ever seen--help them or betray them to the enemy?
Update:
I never read this one, and it doesn't sound too much like my kind of thing. Me thing, not a book thing. I'm just more aware of what I do and don't like these days.
Time of the Witches by Anna Myers
Release date:
September 15th, 2009
Summary (from goodreads):
Orphaned at the age of four, Drucilla finally has a place she can call home with her new family, the Putnams, of Salem Village. But when a new reverend and his family move into town with their servant Tituba, life takes a strange and dangerous turn as accusations of witchcraft swirl.
Dru is overwhelmed by the fervor of lies and the power of groupthink among the other girls in town; reluctant to turn her back on the Putnams, she utters her own accusations.
Only her best friend Gabe sees through the deceit, but it may be too late for Dru to protect the truth, and innocent people will pay the ultimate price.
Update:
Never read this one either. I would probably buy this if I saw it at a sale or something for cheap, but I probably wouldn't seek it out. The cover is really pretty though.
WoWed July 1st, 2009:
The Dark Days of Hamburger Halpin by Josh Berk
Release date:
February 9th, 2010
Summary (from goodreads):
Being a hefty, deaf newcomer almost makes Will Halpin the least popular guy at Coaler High. But when he befriends the only guy less popular than him, the dork-namic duo has the smarts and guts to figure out who knocked off the star quarterback.
Will can't hear what's going on, but he's a great observer. So, who did it? And why does that guy talk to his fingers? And will the beautiful girl ever notice him? (Okay, so Will's interested in more than just murder . . .)
Those who prefer their heroes to be not-so-usual and with a side of wiseguy will gobble up this witty, geeks-rule debut.
Update:
I have not read this, but I own it! I got it somewhat recently, in fact. I do want to eventually read it.
Plain Kate by Erin Bow
Release date:
September 1st, 2010
Summary (from goodreads):
Plain Kate lives in a world of superstitions and curses, where a song can heal a wound and a shadow can work deep magic. When Kate's village falls on hard times - crops fail, and even Kate's father falls victim to a deadly fever - the townspeople look for someone to blame, and their eyes fall on Kate.
Enter Linay, a stranger with a proposition: In exchange for her shadow, he'll give Kate the means to escape the town that seems set to burn her, and what's more, he'll grant her heart's wish. It's a chance for her to start over, to find a home, a family, a place to belong. But Kate soon realizes that she can't live shadowless forever -- and that Linay's designs are darker than she ever dreamed.
Update:
I really liked Erin Bow's Swan Riders series, and I'd like to read more, but I believe this has some racial stereotyping about Romani people that I would not like to support. So, I'd probably pass on this one, but would be interested in other books from the author.
WoWed July 8th, 2009:
Brightly Woven by Alexandra Bracken
Release date:
March 23rd, 2018
Summary (from goodreads):
The day the rains came was like any other, blistering air coating the canyon in a heavy stillness....
Just as the rains come after ten long, dry years, a young wizard, Wayland North, appears, to whisk Sydelle Mirabil away from her desert village. North needs an assistant, and Sydelle is eager to see the country - and to join him on his quest to stop the war that surely will destroy her home.
But North has secrets - about himself, about why he chose Sydelle, about his real reasons for the journey. What does he want from her? And why does North's sworn enemy seem fascinated by Sydelle himself?
Update:
I never read this one, but I totally would if it made its way to me. Still a gorgeous cover, too.
Kat, Incorrigible by Stephanie Burgis
Release date:
August 1st, 2010
Summary (from goodreads):
Katherine Ann Stephenson has just discovered that she's inherited her mother's magical talents, and despite Stepmama's stern objections, she's determined to learn how to use them.
But with her eldest sister Elissa's intended fiancé, the sinister Sir Neville, showing a dangerous interest in Kat's magical potential; her other sister, Angeline, wreaking romantic havoc with her own witchcraft; and a highwayman lurking in the forest, even Kat's reckless heroism will be tested to the upmost.
If she can learn to control her new powers, will Kat be able to rescue her family and win her sisters their true love?
Update:
Interesting fact, this actually got a new title from when I WoWed it. It used to be much longer. I never read this, but I totally would. It looks really cute. The cover art also reminds me of Coraline a little.
Interesting fact #2, I had two different Waiting on Wednesday posts numbered "13". Because of course I did. I mean, 13 is a lucky number for me, and I cannot count.
WoWed July 15th, 2009: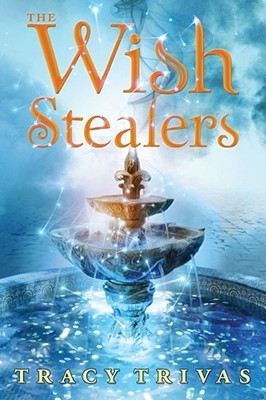 The Wish Stealers by Tracy Trivas
Release date:
January 4th, 2010
Summary (from goodreads):
Griffin Penshine is always making wishes. But when a sinister old woman tricks her into accepting a box of eleven shiny Indian Head pennies from 1897, Griffin soon learns these are no ordinary pennies, but stolen wishes.
This box of labeled pennies comes with a horrible curse: People in possession of the stolen coins are Wish Stealers, who will never have their wishes granted.... In fact, the opposite of what they've wished for will happen. Griffin must find a way to return these stolen wishes and undo the curse if her own wishes are to come true.
But how can Griffin return wishes to strangers who might not even be alive? Her journey leads her to ancient alchemists, Macbeth's witches, and a chance to help people in ways she never imagined, but the temptation of the Wish Stealers' dark and compelling power is growing stronger. Can Griffin reverse the curse in time to save herself and the people she loves?
Update:
I'm realizing I'm a sucker for middle grade. Didn't read this, but I'd grab it at a yard sale.
I Kissed A Zombie and I Liked It by Adam Selzer
Release date:
January 26th, 2010
Summary (from goodreads):
Algonquin "Ali" Rhodes, the high school newspaper's music critic, meets an intriguing singer, Doug, while reviewing a gig. He's a weird-looking guy—goth, but he seems sincere about it, like maybe he was into it back before it was cool. She introduces herself after the set, asking if he lives in Cornersville, and he replies, in his slow, quiet murmur, "Well, I don't really live there, exactly. . . ."
When Ali and Doug start dating, Ali is falling so hard she doesn't notice a few odd signs: he never changes clothes, his head is a funny shape, and he says practically nothing out loud. Finally Marie, the school paper's fashion editor, points out the obvious: Doug isn't just a really sincere goth. He's a zombie. Horrified that her feelings could have allowed her to overlook such a flaw, Ali breaks up with Doug, but learns that zombies are awfully hard to get rid of—at the same time she learns that vampires, a group as tightly-knit as the mafia, don't think much of music critics who make fun of vampires in reviews...
Update:
Is this supposed to be a parody or serious? Just not so much my thing anymore, I think.
WoWed August 14th, 2009:
Fallen by Lauren Kate
Release date:
December 8th, 2009
Summary (from goodreads):
What if the person you were meant to be with could never be yours?
17-year-old Lucinda falls in love with a gorgeous, intelligent boy, Daniel, at her new school, the grim, foreboding Sword & Cross . . . only to find out that Daniel is a fallen angel, and that they have spent lifetimes finding and losing one another as good & evil forces plot to keep them apart.
Get ready to fall...
Update:
Okay I've never read this one. But.
Luci has.
And there was a movie made based on the book. And I'm not gonna lie, it looks terrible. So I'm gonna make them watch it with me eventually! It's gonna be fun :D
I probably won't read it though.
So I own two of these, but haven't read any of these. Huh! Interesting grouping in this post. What are you all thinking of this series?
Peace and cookies,
Laina