I told you I'd post this! Are you surprised? I'm a little surprised. After you read this, go on and
enter the contest
for Hollow City!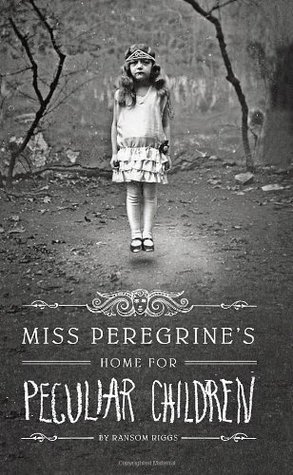 Miss Peregrine's Home for Peculiar Children by Ransom Riggs
Published:
January 1st, 2011
Genre:
YA and then... somewhere between Paranormal and Horror, maybe
Binding:
Paperback
Page Count:
347 before the extra stuff
Part of a series?
Yes, it's the first book. The second is out, and the third should be coming out in September of this year.
Got via:
I bought it with a gift card from Chapters and Indigo
Amazon
(and the Kindle copy is only 3 dollars!) /
Book Depository
/
Indiebound
Summary (from goodreads):
A mysterious island. An abandoned orphanage. A strange collection of curious photographs.
A horrific family tragedy sets sixteen-year-old Jacob journeying to a remote island off the coast of Wales, where he discovers the crumbling ruins of Miss Peregrine's Home for Peculiar Children. As Jacob explores its abandoned bedrooms and hallways, it becomes clear that the children were more than just peculiar. They may have been dangerous. They may have been quarantined on a deserted island for good reason. And somehow—impossible though it seems—they may still be alive.
Review:
When this first came out and people started talking about it, I was
really
jealous of everyone who got it! Then later when I got the offer to review Hollow City, I was like "oh my gosh, yes!" At some point I got a giftcard for Chapters and... lost it for about a year... and then found it! So I had 50 dollars to spend on books, Hollow City, and I still
really wanted this
. So I bought it, and I am so glad I did. Also, I got a pretty good deal. I bought this,
The Girl With the Silver Eyes
,
A Love Story Starring My Dead Best Friend
, and
8 other books
. (I'm a very good shopper. I may have gone slightly over the giftcard, too, but not that much. Plus I got free shipping!) And that doesn't have anything to do with the book, but I'm always proud of a good deal.
Now, if you're not familiar with this, this book is liberally peppered with black and white vintage photos. One of them, for example, is on the cover. Which you should look very, very closely at. Most of the photos are like that, with something strange or unusual about them. I think the book could stand without them, but they add something very, very cool, and really enrich to story. The pictures themselves are also just super cool. Some of them are seriously creepy, but you also want to spend time just
looking
at a whole lot of them. It all works together very well, and one wouldn't be the same without the other.
Plot Talk:
I'm awful at plot, but basically - Jacob loses his grandfather, and something he says, and some things he leaves Jacob, prompts Jacob to travel to where his grandfather spent part of his youth to try understand him and learn more about what shaped his grandfather. Along with his father, Jacob travels to a tiny island in Wales. Once there, Jacob begins to discover his grandfather's secrets as strange events happen around him.
...that was pretty good, huh? I liked the pacing of the plot, myself. Not rushed, but not slow, and if that kind of thing concerns you, the ending isn't cliffhanger-y. It definitely sets it up so you want to read the second book, but it isn't a matter of where you don't feel like the first book is resolved.
Characters:
The characters in this are interesting. Jacob's parents start out almost Roald Dahl-esque in how unrealistic they are. As the book goes on, though, his father especially becomes more of a real character, and gets deeper, and you realize a lot of their lack of depth is Jacob not realizing exactly that his parents are real people, and not just parents. And I think that's a really neat thing in a book, although I kind of wish there'd been more time for his mother to be treated like a person, not just his father.
Jacob himself has an interesting voice. I don't think it's the most authentic teenager voice I've ever read, though. There were, unfortunately, times where I thought that just wasn't how a kid his age would say something. While that did throw me off at times, I think in general the more adult, literary voice could also be a draw for those kids that like to skip YA and go straight for adult. It's a very mature book, and I think strong readers would enjoy Jacob's voice. Reluctant readers, however, may not be as drawn towards the voice. His voice definitely could be pretty formal at times. Basically, I enjoyed Jacob as a character, but sometimes I wanted him to loosen up!
Most of the other characters in this were pretty neat, too. I liked the Wales setting, and how people who live on a tiny, remote island act. (I feel that, hard. Small town Saskatchewan in the winter can also feel like a tiny, remote island.) And as for the other characters... well... some of them were very peculiar, indeed.
PG-13 stuff:
While there is some language, I think the majority of the mature content of this book is in the atmosphere and the real meat of the plot. The book is, frankly, kind of creepy! That's actually why I had trouble placing the genre. I think it's really on the line between paranormal and horror, but I personally read very little YA horror these days, and my experience with it is mostly RL Stine, Christopher Pike, and other Point Horror type things! On who I'd recommend this for, it'd really depend on the reader. Scary things are sort of personal - some people love them, some people don't do well like this. I think readers who liked Coraline but also enjoy a little more of a challenging read may really enjoy this. And Coraline is one of my favourite books!
Cons, complaints, bad stuff, etc.:
One of the only things I didn't like was how the attitude towards mental illness came off. After the initial plot event that starts the book, Jacob spends a lot of time in therapy trying to deal with the after effects of what happened and what he sees. You all know I love therapy in books, but I don't like when books or movies use mental illness as a scapegoat. You know what I mean? Like when someone is called "crazy" because they see things other people can't, but they're not
really
"crazy" because those things are totally real! Why can't you have those things be real, and
also
have a character be mentally ill?
Okay, this is a touch of a spoiler, so move on to the next section if you don't want to see it (you can probably figure out from the synopsis, though), but I want to go into a bit more detail about what exactly I mean.
Early in the book, Jacob sees a creature and ends up having very bad after-effects, like nightmares and obsessive behaviour, and eventually is convinced by his therapist that he had "acute stress reaction". Later in the book, we find out that the monsters are real. I wish that the book had acknowledged more that, yes the monsters are real, but hey, maybe seeing monsters can cause some acute stress reactions! You can have both - monsters can be real, but so can mental illness. One doesn't need to cancel out the other. I can't imagine combat with monsters is easier on your psyche than combat with humans, personally.
We need more good depictions of mental illness, including ones in fantasy, and this kind of erasure is a trope I do not like, so that loses points for me, unfortunately.
Cover comments:
I love the cover. The black and white photo aspect of it is just nifty as all get out, The little details of the swirls and shapes and the face in the white, and the font that looks like chalk handwriting, it all adds something that is just wonderfully creepy. And the picture itself is almost deceptively normal until you look closely. I love it.
Conclusion:
I really loved the book. The aspects I mentioned did bother me, and I wish they had been addressed better, but they weren't dealbreakers for me. I think it's important, though, to be a critical consumer of media, and address things like this. Otherwise they become accepted to the point of being ingrained in our culture. So I personally need to point those things out, but in this case, I still enjoyed the book otherwise. I loved the mixed media aspect, which is something you might see more in MG but rarely in YA, and something that I absolutely adore. I also really liked the stuff included with the paperback telling about the process of collecting the photos, and the interview with the author. Nice touch there!
All in all, I really enjoyed this, and I am excited to read the second one as soon as I finish this review! (And, you know. Probably do some homework first, because I am a responsible adult. Sort of. Edit later: And get over my stomach flu, because the world is
cruel
.) Four roses!
Other notes:
- Oh, this is funny. I have note saying the beginning is set in or around Sarasota, Florida. Fun fact: Sarasota is one of those places that has weird laws (like fines for elephant parking) because of the history of the circus. Sarasota used to be where circuses would stay for the winter.
- Also, I wanted to show you guys the pen I used working on this book, because it amused me.
Birds, man.
Remember to leave a meaningful comment for an extra entry in the contest!
Peace and cookies,
Laina