I debated between doing a "Things" entry about this or a full-on review, and figured I might as well do a review. So, here we are!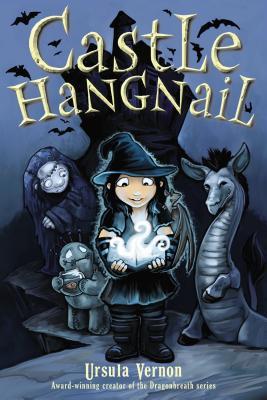 Castle Hangnail by Ursula Vernon
Published:
January 1st, 2015 by Dial Books for Young Readers
Genre:
MG Fantasy
Binding:
Hardcover
Page Count:
372 plus an about the author and acknowledgements
Part of a series?
Sadly, it doesn't seem to be, although I would absolutely love sequels.
Got via:
La bibliothèque. (Just saying the library over and over is getting boring, but hey, I love the library.)
Amazon
/
Book Depository
(hardcover, but
the paperback
to be released in March is like 10 dollars cheaper) /
Indiebound
Summary (from goodreads):
When Molly shows up on Castle Hangnail's doorstep to fill the vacancy for a wicked witch, the castle's minions are understandably dubious. After all, she is twelve years old, barely five feet tall, and quite polite. (The minions are used to tall, demanding evil sorceresses with razor-sharp cheekbones.) But the castle desperately needs a master or else the Board of Magic will decommission it, leaving all the minions without the home they love. So when Molly assures them she is quite wicked indeed (So wicked! REALLY wicked!) and begins completing the tasks required by the Board of Magic for approval, everyone feels hopeful. Unfortunately, it turns out that Molly has quite a few secrets, including the biggest one of all: that she isn't who she says she is.
Review:
So here's a fun story. I got it into my head that Ursula Vernon and Ursula Le Guin were the same person. Apparently I just thought they were one incredibly talented person who could draw and write in a ton of genres and was incredibly successful. It was literally not until I was looking stuff up for this post that I went "OH". Let's just, um, ignore that one, okay?
Anyways, I saw this on tumblr first, actually, and thought it looked absolutely adorable, and thought that I would love to read it, first of all, but also that my graduated reader might like this. I think this might be a little too advanced for her, but I'm going to give it to her mom and see what they think. Maybe they can read it as a family, or take turns. I do think, though, that this one could be really good for readers who are looking for just a little bit more of a challenge than they're used to. The illustrations are really engaging and adorable, and the chapters are pretty short, so they don't seem impossible to get through.
As I was writing the notes for this, I got 3 pages in and my third note was "very Eva Ibbotson". Imagine my surprise when I got to the end and one of the acknowledgments
is
Eva Ibbotson, a very sweet note about how Vernon found her inspiring. Well, Ms. Vernon, I would say you definitely accomplished a book that any Eva Ibbotson fan would love. Which, dear readers, don't get me wrong, that is not in any way saying that Castle Hangnail tries to
be
an Eva Ibbotson book, but that it is lovely and fantastical in the same way, while also being very unique.
Plot Talk:
The summary's pretty accurate. Molly, a very Wicked Witch, moves into Castle Hangnail, and she has to prove herself to the Board of Magic and the castle's minions, and hijinks and magic happen. The bok has a blend of very classical elements like the castle, and magic and witches and ghosts, but also modern things like computers and telephones and plumbing. It's modern-day magic, with the same charm as those older magical books we love, with a perfect blend of both elements.
Characters:
Can I just declare my love for Molly? She is a wonderful 12 year old girl, and I would basically have been like "I want to be her" when I was 9 or 10 or 11 or... 23. She's polite and quite cheerful most of the time, but also Wicked (as in, Wicked Witch), and loves dark and creepy things without being mean, or unrealistic. She also never becomes overwhelmed by the other fantastic characters in the book, which is something that can happen when you have really great monster/ghost/etc characters with huge personalities. She's brave, and stubborn, and stands up for people and creatures who need defending, and scared, and lies a little, and I think she is a wonderful character, especially for young girls.
The minions, as they called the monsters that helped run the castle, were really awesome, too. They were all really interesting, and they came from all kinds of mythologies. Their personalities shone without anyone overwhelming anyone else, and they were all so important to the story.
I also thought it was nice to see a couple of the minions be female, and that there were a good amount of female characters. There's a lack of humans that Molly interacts with in the book in general, since most of the book is about the castle, but two of the most important human characters are women. While the minions aren't human, I would rather have female important non-human female characters like this, and if there are male non-human charactes, there should be female ones, too, and if those characters are super important to saving the day? Heck yeah, let some of them be girls!
PG-13 stuff: There's a some very light violence that could be scary to some younger or more sensitive readers, mostly magical, but I don't think it's really bad, and none of the pictures are scary or anything. I think most readers would be good with this, especially ones in the 8-12 range.
This isn't a warning against it - I think it's done amazingly well, and I want to give it kudos - there is a thread running through this book about consent. It's done by way of magic, and sharing power, but it's a very mature theme done in a way that makes me want to basically shout it from the roof. One of the things in the book, basically, implies that if you can't safely say no to something, you can't really say yes to it. It's anti-rape culture in a book aimed at 8-12 year olds, and I have never been happier to read something in a middle grade book.
Cons, complaints, bad stuff, etc.:
Um. Maybe a couple more WOC? There's one character who could be read that way, with her face being brown being mentioned, but is also a gardener so could just be meant as tan, and I would have liked that to be more explicit. More POC is definitely something that could have been done, and I shouldn't ignore that just because I love a book. There should have been more POC besides one explictly black character.
Cover comments:
I love it. The cover is what caught my attention first messing around on tumblr, and the colours are wonderful. I would have been
so
drawn to this as a kid.
And my art comments will go here as I do in other reviews, yeah? The illustrations in this are absolutely adorable. They're a little bit creepy at times, but in a really cute way, so it balances by both being really weird and really cute. I also adore how Molly is drawn. She's short and round, and it's really nice to see young characters drawn like that.
Conclusion:
Can you tell I liked this one? I would have loved this so much as a kid, and I want to give this to kids and make them read it and love it. I love the balance of slightly creepy and sweet, the magic, and Vernon has a wonderful voice. There's so much personality in the narration, and I basically only stopped reading this to tweet about how much I was enjoying reading it. That's how awesome the voice is. It's charming, it's exciting, and it's really lovely. I really recommending this one. Four out of five roses, with a half rose knocked off because there really could have been more POC and more women, and it would be unfair for me to ignore that and how that does affect young readers because I loved a book. I still loved it, but those things should have been done better.
Other notes:
- Isn't it funny how I've read
two books recently
where a heroine named Molly has to save a castle in some way?
- I believe there will be a Valentine's Day book round-up next week if my library books come in time for me to read them and get the post up. Wish me luck!
Peace and cookies,
Laina