If you're new around here, Things I've Read Recently is a series of posts I do that are basically mini-reviews of books that I either forgot to review, didn't have enough to say for a full review, or just didn't want to do a full post about for whatever reason. This is very convenient for comics, honestly, as there's not always a ton to say about them.
I do have some stuff to talk about, though, and let's start with this one.
Phoebe and Her Unicorn by Dana Simpson
Published:
These are webcomics that eventually started to be published in newspapers, collected into a bind-up September 2nd, 2014 by Andrews McMeel Publishing
Genre:
Middle grade/juvenile comic
Binding:
Paperback, but if you have a choice for your library for this series, get a hardcover. (I'll explain why in the review.)
Page Count:
215 plus a bunch of cute extras like little recipes and crafts and how to draw stuff. Very nice bonus stuff.
Part of a series?
There are currently 7 volumes out, one just published March 20th, and I believe the comic strip is on-going as well.
Got via:
The library.
Amazon
/
Book Depository
/
Indiebound
Summary (from goodreads):
Do you believe in unicorns? Phoebe does. She has no choice.. one day she skipped a rock across a pond, and hit a unicorn in the face. Improbably, this resulted in a lasting friendship between Phoebe and the unicorn, one Marigold Heavenly Nostrils.
Come along for the unicorn ride with Phoebe, as she deals with the usual burdens of childhood (cruel classmates, gym class, piano lessons) and also some unusual ones (magic hair, candy-breathing dragons, and the legendary Shield of Boringness).
Can a precocious little girl and a self-absorbed mythical forest creature find common ground?
Thoughts:
Dang this is adorable. I grew up on Calvin and Hobbes, and this is definitely reminiscent of that, but centering a great girl character. Also, I've never seen the Last Unicorn, but I know enough about it know the way Marigold is drawn is pretty similar to that, so if you grew up watching that movie, you might get a kick out of this.
It is very, very cute and really funny. I would have adored it as a kid, and I can tell that kids today are loving it, because the paperback copy I have is super beat up. Like I read it and then I went and washed my hands before doing anything else, lol. I know not all of these can be bought in hardcover, but if you're a librarian and you can get the ones in hardcover, do, because I think the durability will be worth if.
If you want to buy a gift for a kid, one of these would be great as they seem to average at or under ten dollars, and I can see the appeal being super high. There's a bit of ableist language, and it lacks a little bit of diversity (could use more POC especially), but I'm hoping that comes as it goes on. All in all, lots of fun.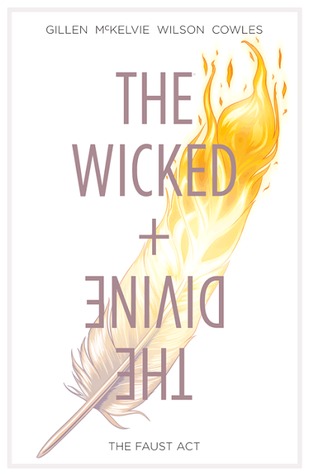 The Wicked + The Divine, Vol. 1: The Faust Act by Kieron Gillen, Jamie McKelvie, Mat Wilson, and Clayton Cowles
Published:
November 1st, 2014 by Image Comics
Genre:
Adult urban fantasy comic
Binding:
Paperback
Page Count:
Goodreads says 144
Part of a series?
This collects issues 1-5 of The Wicked + the Divine
Got via:
The library
Amazon
/
Book Depository
/
Indiebound
Summary (from goodreads):
Every ninety years, twelve gods incarnate as humans. They are loved. They are hated. In two years, they are dead. The team behind critical tongue-attractors like Young Avengers and PHONOGRAM reunite to create a world where gods are the ultimate pop stars and pop stars are the ultimate gods. But remember: just because you're immortal, doesn't mean you're going to live forever.
Thoughts:
I was looking for comic book recommendations on Twitter, and someone recommended this, plus I'd heard there was eventually an ace character, so I decided to check it out. I actually really like the art style of this, and I also thought that it was super neat that they use a wide variety of gods, and not just like, the Greek ones. For some reason I definitely thought it was only going to be Greek gods, and seeing Irish mythology especially excited me because that's my thing.
I will say, this is a bit gorier than I would have expected without being told beforehand. Luci warned me about the fact that several heads explode on page in this, which I really apprecated because yeah, that's kind of disturbing. There's also a lot of sex talk done in a way which can get a little meh. Like, I get it, everyone wants to bone the gods. I just thought it got a bit old.
All in all, this probably isn't my favourite series, but I'm interested enough to read more. It's an interesting concept, and the art style works well for me, so I think I'll order another volume or two.
Paper Girls, Volume 1, by Brian K. Vaughan, Cliff Chiange, and Matthew Wilson
Published:
April 5th, 2016 by Image Comics
Genre:
YA comics
Binding:
Paperback
Page Count:
Goodreads says 144, and as always, I assume goodreads is correct, as these things aren't numbered.
Part of a series?
This collects Paper Girls 1-5.
Got via:
The library.
Amazon
/
Book Depository
/
Indiebound
Summary (from goodreads):
In the early hours after Halloween of 1988, four 12-year-old newspaper delivery girls uncover the most important story of all time. Suburban drama and otherworldly mysteries collide in this smash-hit series about nostalgia, first jobs, and the last days of childhood.
Thoughts:
Oh yeah, I want more of this. Partly because the volume ended on a freaking cliffhanger like nobody's business, but also I really liked this. It's set in 1989, and has kind of a Lumberjanes meets Stranger Things vibe going on. Which are both things I enjoy.
The only thing I'm really not fond of is the homomisic language that one of the protagonists uses (she's called out for it by the other characters), but I'm willing to see how that character changes and grows. I have a feeling about where they're going with that and I want to see if I'm right before making a decision on that. If you're not okay with that and that's a dealbreaker, I totally get it and no pressure, but that's my view for now.
This does feel really unfinished, which it obviously is being the first in a series, but I'm very interested in reading more.
Spell on Wheels by Kate Leth, Megan Levens, and Marissa Louise
Published:
June 20th, 2017 by Dark Horse Comics
Genre:
Fantasy Comics, and it's an adult comic, but would be fine for teens as well and probably has a lot of YA appeal.
Binding:
Paperback
Page Count:
This one actually numbers them, and it has 134 pages.
Part of a series?
This collects Spell on Wheels #1-5 which I believe is the whole series.
Got via:
The library.
Amazon
/
Book Depository
/
Indiebound
Summary (from goodreads):
A road trip story. A magical revenge fantasy. A sisters-over-misters tale of three witches out to get back what was taken fom them.
Andy, Jolene, and Claire aren't your average twenty-somethings. They're legacy witches making their way through a modern world. When a jealous nonmagical ex breaks into their home and steals a spell that could awaken potentials with magical powers, the witches plan their revenge. Traveling down the East Coast, they must retrieve their powerful stolen artifacts and strengthen their friendship... the big bad is even worse than they imagined.
Thoughts:
This was super fun. I ordered this solely because I saw a preview of it on Twitter, actually a couple years ago, and the character on the far right there, Claire, looked maybe-fat, and I wanted to see how that was. She's comic book fat, so she's not exactly representative of me, and is more chubby/curvy than really fat, but she's also the largest character in the book. Her design can change issue from issue, and in some parts she looks almost the same as the other girls. She is clearly meant to be larger and taller, though.
So, not really rep for me or anything, but she's cute. Better than the nothing most comics give us, honestly. It's about what I was expecting.
Overall this was quite fun. I do quite like the art style, and found it fun and engaging. It is
super
colourful and I really like that so much more than grim and dark. It's just pretty to look at. Also, queer! Multiple characters in this are, including one of the main characters. It lacks in some areas of diversity, but not bad overall for that. And I liked how tropey it could be at times, in really fun ways. There's a magical makeover scene and that is just wonderful.
I believe this was a limited run, so this is all there is, but if there was ever more, I'd read the heck out of them. Lots of fun, and easy to read since there's just the one volume. I was quite impressed with how well the characters and their relationships were developed in such a short time period, especially. This was probably my favourite of this post, honestly. Recommended.
Alright, that's everything for this post!
Peace and cookies,
Laina