In 2018 I did a couple reading challenges. The first of which was
Platypire's Diversity 2018
challenge, which frankly wasn't my favourite challenge. Some of the phrasing I really am not too fond of and it seems like the host kind of abandoned it, but it was all I could find at the time.
Let's talk about what I read, though. I have reviews for most of this, but I don't feel like linking them up so just search if you want to find them.
January's theme - "Biracial Awareness"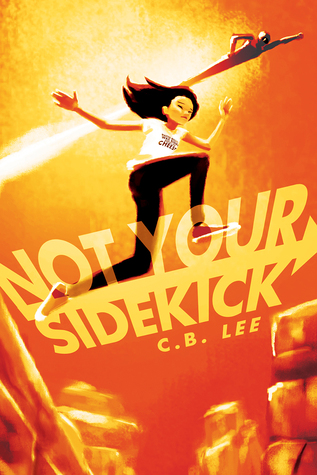 Not Your Sidekick by C.B. Lee
Published:
September 8th, 2016 by Duet Books
Genre:
YA Science Fiction
Amazon
/
Book Depository
/
Indiebound
Summary (from goodreads):
Welcome to Andover… where superpowers are common, but internships are complicated. Just ask high school nobody, Jessica Tran. Despite her heroic lineage, Jess is resigned to a life without superpowers and is merely looking to beef-up her college applications when she stumbles upon the perfect (paid!) internship—only it turns out to be for the town's most heinous supervillain.
On the upside, she gets to work with her longtime secret crush, Abby, who Jess thinks may have a secret of her own. Then there's the budding attraction to her fellow intern, the mysterious "M," who never seems to be in the same place as Abby. But what starts as a fun way to spite her superhero parents takes a sudden and dangerous turn when she uncovers a plot larger than heroes and villains altogether.
February's theme - "Black History Month"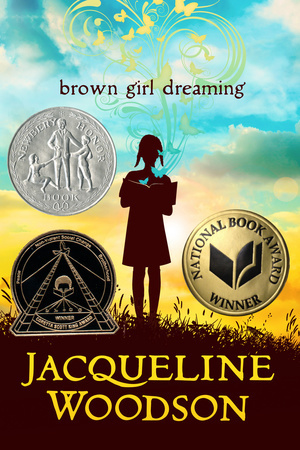 Brown Girl Dreaming by Jacqueline Woodson
Published:
August 28th, 2014 by Nancy Paulsen Books
Genre:
Middle Grade Non-Fiction/Memoir... in verse.
Amazon
/
Book Depository
/
Indiebound
Summary (from goodreads):
Jacqueline Woodson, one of today's finest writers, tells the moving story of her childhood in mesmerizing verse.
Raised in South Carolina and New York, Woodson always felt halfway home in each place. In vivid poems, she shares what it was like to grow up as an African American in the 1960s and 1970s, living with the remnants of Jim Crow and her growing awareness of the Civil Rights movement. Touching and powerful, each poem is both accessible and emotionally charged, each line a glimpse into a child's soul as she searches for her place in the world. Woodson's eloquent poetry also reflects the joy of finding her voice through writing stories, despite the fact that she struggled with reading as a child. Her love of stories inspired her and stayed with her, creating the first sparks of the gifted writer she was to become.
March's theme - "Woman History Month" and non-fiction only
All Day: A Year of Love and Survival Teaching Incarcerated Kids at Rikers Island, New York's Most Notorious Jail by Liza Jessie Peterson
Published:
May 2nd, 2017
Genre:
Adult Memoir
Amazon
/
Book Depository
/
Indiebound
Summary (from goodreads):
Eighteen years ago, performance artist Liza Jessie Peterson never thought that her day of substitute teaching at Rikers Island C-74 would change the course of her life, but it did. It ignited a lifelong passion--which continues in her work with incarcerated kids today--to make a difference in the lives of youth in trouble.
Her powerful narrative captures the essence, humor, intellect, creativity and psychology of children in the penal system. She intimately introduces readers to her students. We see them, smell their musk, feel their attitudes, hear their voices and learn how they came to be jailed--residents of "the island."
Everyone in the classroom grows-including the teacher-in this must-read memoir for anyone who cares about children and education. Peterson's perspective and insights will make any teacher a better teacher. This book will encourage and empower anyone committed to social justice.
April's theme - "Arab Heritage Month"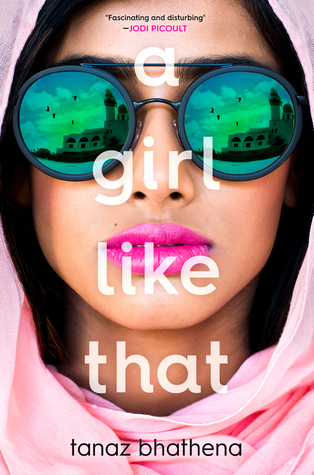 A Girl Like That by Tanaz Bhathena
Published:
February 27th, 2018 by Farrar Straus Giroux Books for Young Readers which I believe is an imprint of Macmillan.
Genre:
Contemporary YA
Amazon
/
Book Depository
/
Indiebound
Summary (from goodreads):
Sixteen-year-old Zarin Wadia is many things: a bright and vivacious student, an orphan, a risk taker. She's also the kind of girl that parents warn their kids to stay away from: a troublemaker whose many romances are the subject of endless gossip at school. You don't want to get involved with a girl like that, they say.
So how is it that eighteen-year-old Porus Dumasia has only ever had eyes for her? And how did Zarin and Porus end up dead in a car together, crashed on the side of a highway in Jeddah, Saudi Arabia?
When the religious police arrive on the scene, everything everyone thought they knew about Zarin is questioned. And as her story is pieced together, told through multiple perspectives, it becomes clear that she was far more than just a girl like that.
May's theme - "Asian/Pacific Islander History Month"
Shadow Girl by Liana Liu
Published:
December 19th, 2017 by HarperTeen
Genre:
YA horror
Amazon
/
Book Depository
/
Indiebound
Summary (from goodreads):
The house on Arrow Island is full of mystery.
Yet when Mei arrives, she can't help feeling relieved. She's happy to spend the summer in an actual mansion tutoring a rich man's daughter if it means a break from her normal life—her needy mother, her delinquent brother, their tiny apartment in the city. And Ella Morison seems like an easy charge, sweet and well behaved.
What Mei doesn't know is that something is very wrong in the Morison household.
Though she tries to focus on her duties, Mei becomes increasingly distracted by the family's problems and her own complicated feelings for Ella's brother, Henry. But most disturbing of all are the unexplained noises she hears at night—the howling and thumping and cries.
Mei is a sensible girl. She isn't superstitious; she doesn't believe in ghosts. Yet she can't shake her fear that there is danger lurking in the shadows of this beautiful house, a darkness that could destroy the family inside and out… and Mei along with them.
June's theme - "LGBT Pride Summer"
Baker Thief by Claudie Arseneault
Published:
To be released June 26th, 2018 by the Kraken Collective
Genre:
Adult Urban Fantasy with some science fiction elements
Amazon
/
Book Depository
/
Indiebound
/
Gumroad
/
Everywhere else
Summary (from goodreads):
Adèle has only one goal: catch the purple-haired thief who broke into her home and stole her exocore, thus proving herself to her new police team. Little does she know, her thief is also the local baker.
Claire owns the Croissant-toi, but while her days are filled with pastries and customers, her nights are dedicated to stealing exocores. These new red gems are heralded as the energy of the future, but she knows the truth: they are made of witches' souls.
When her twin—a powerful witch and prime exocore material—disappears, Claire redoubles in her efforts to investigate. She keeps running into Adèle, however, and whether or not she can save her sister might depend on their conflicted, unstable, but deepening relationship.
July's theme - "LGBT Pride Summer"
Ivy Aberdeen's Letter to the World
Published:
March 6th, 2018 by Little, Brown Books for Young Readers
Genre:
Contemporary MG
Amazon
/
Book Depository
/
Indiebound
Summary (from goodreads):
When a tornado rips through town, twelve-year-old Ivy Aberdeen's house is destroyed and her family of five is displaced. Ivy feels invisible and ignored in the aftermath of the storm--and what's worse, her notebook filled with secret drawings of girls holding hands has gone missing.
Mysteriously, Ivy's drawings begin to reappear in her locker with notes from someone telling her to open up about her identity. Ivy thinks--and hopes--that this someone might be her classmate, another girl for whom Ivy has begun to develop a crush. Will Ivy find the strength and courage to follow her true feelings?
August's theme - "Mental Health Awareness"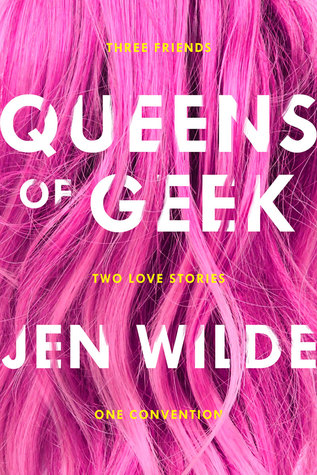 Queens of Geek by Jen Wilde
Published:
March 14, 2017 by Swoon Reads
Genre:
Contemporary YA
Amazon
/
Book Depository
/
Indiebound
Summary (from goodreads):
Charlie likes to stand out. She's a vlogger and actress promoting her first movie at SupaCon, and this is her chance to show fans she's over her public breakup with co-star Reese Ryan. When internet-famous cool-girl actress Alyssa Huntington arrives as a surprise guest, it seems Charlie's long-time crush on her isn't as one-sided as she thought.
Taylor likes to blend in. Her brain is wired differently, making her fear change. And there's one thing in her life she knows will never change: her friendship with her best guy friend Jamie—no matter how much she may secretly want it to. But when she hears about a fan contest for her favorite fandom, she starts to rethink her rules on playing it safe.
September's theme - "Hispanic History Month"
The First Rule of Punk by Celia C. Pérez
Published:
August 22nd, 2017 by Viking Books for Young Readers
Genre:
Contemporary MG
Amazon
/
Book Depository
/
Indiebound
Summary (from goodreads):
There are no shortcuts to surviving your first day at a new school--you can't fix it with duct tape like you would your Chuck Taylors. On Day One, twelve-year-old Malu (Maria Luisa, if you want to annoy her) inadvertently upsets Posada Middle School's queen bee, violates the school's dress code with her punk rock look, and disappoints her college-professor mom in the process. Her dad, who now lives a thousand miles away, says things will get better as long as she remembers the first rule of punk: be yourself.
The real Malu loves rock music, skateboarding, zines, and Soyrizo (hold the cilantro, please). And when she assembles a group of like-minded misfits at school and starts a band, Malu finally begins to feel at home. She'll do anything to preserve this, which includes standing up to an anti-punk school administration to fight for her right to express herself!
October's theme - "Physical Disability Awareness Month"
Blind Spot by Laura Ellen
Published:
October 23rd, 2012 by Harcourt Children's Books
Genre:
YA... well, sort of a thriller but more contemporary. I'll go into that.
Amazon
/
Book Depository
/
Indiebound
Summary (from goodreads):
Missing things is nothing new to sixteen-year-old Roz. She lives with macular degeneration, an eye disease that robs her of her central vision (and, it seems, her best friends). Every day, Roz has to piece together fragments to make sense of the world around her. She's always managed to get along fine without help, but when she's placed in a special needs class, Roz begins a desperate attempt to prove she's "normal" - and soon her world spins out of control.
A classmate's body floats to the surface of Alaska's Birch River six months after the night she disappeared. The night Roz Hart had a fight with her. The night Roz can't remember. Now only Roz's ability to piece together she missed that fateful night can clear her name... and lead to a murderer. But not only has her eyesight betrayed her, her memory has too. How can Roz discover the truth when she can't even trust herself?
The part where I talk:
I thought I accidentally skipped a month but I guess not. Okay, I didn't actually read it until December, but I still read it, so I'm counting it. I was sure I dnfed a challenge book, but maybe I just didn't read it that month.
November's theme - "Native American History Month"
Shadows Cast by Stars by Catherine Knuttson
Published:
June 5th, 2012 by Atheneum
Genre:
YA Dystopian
Amazon
/
Book Depository
/
Indiebound
Summary (from goodreads):
Two hundred years from now, blood has become the most valuable commodity on the planet— especially the blood of aboriginal peoples, for it contains antibodies that protect them from the Plague ravaging the rest of the world.
Sixteen-year-old Cassandra Mercredi might be immune to Plague, but that doesn't mean she's safe— government forces are searching for those of aboriginal heritage to harvest their blood. When a search threatens Cassandra and her family, they flee to the Island: a mysterious and idyllic territory protected by the Band, a group of guerrilla warriors— and by an enigmatic energy barrier that keeps outsiders out and the spirit world in. And though the village healer has taken her under her wing, and the tribal leader's son into his heart, the creatures of the spirit world are angry, and they have chosen Cassandra to be their voice and instrument...
The part where I talk:
I also only read this one in December. Possibly on the last day of December. Close enough to November :P I also cheated this one a bit, since I wanted to read something speculative and I was interested in reading something by a Canadian author, so I didn't exactly follow the guideline.
December's theme - "Religious Minorities"
God Smites and Other Muslim Girl Problems by Ishara Deen
Published:
January 15th, 2017 by Deeya Publishing Inc.
Genre:
Contemporary YA
Amazon
/
Author's website with other links
Summary (from goodreads):
LIKE NANCY DREW, BUT NOT...
Craving a taste of teenage life, Asiya Haque defies her parents to go for a walk (really, it was just a walk!) in the woods with Michael, her kind-of-friend/crush/the guy with the sweetest smile she's ever seen. Her tiny transgression goes completely off track when they stumble on a dead body. Michael covers for Asiya, then goes missing himself.
Despite what the police say, Asiya is almost sure Michael is innocent. But how will she, the sheltered girl with the strictest parents ever, prove anything? With Michael gone, a rabid police officer in desperate need of some sensitivity training, and the murderer out there, how much will Asiya risk to do what she believes is right?
And for Beat the Backlist, I read
1. Angels Fall by Nora Roberts
2. You by Charles Benoit
3. Ruined by Paula Morris
4. The Haunting of Cassie Palmer by Vivian Alcock
5. The Gifting by Ann Gabhart
6. Below the Root by Zilpha Keatley Snyder
7. The Dark Garden by Margaret Buffie
8. The Adoration of Jenna Fox by Mary E. Pearson
9. Abel's Island by William Steig
10. The Summer of the Falcon by Jean Craighead George
11. Sarah and Katie by Dori White
12. Cheater, Cheater by Elizabeth Levy
13. Sisters Red by Jason Pearce
14. The Clearing by Heather Davis
15. Remembering Raquel by Vivian Vande Velde
16. The Callender Papers by Cynthia Voigt
17. The Vandemark Mummy by Cynthia Voigt
18. The Weekend Was Murder by Joan Lowery Nixon
19. The Specter by Joan Lowery Nixon
20. Choker by Elizabeth Woods
21. No More Heroes by Michelle Kan
22. Three Sisters by Norma Fox Mazer
23. Do You Want Fries With That? by Martyn Godfrey
24. Who Let Girls in the Boys' Locker Room by Elaine Moore
25. Veronica the Show-Off by Nancy K. Robinson
26. Inside Out & Back Again by Thanhha Lai
27. The Assassin Game by Kirsty McKay
28. A Night in Terror Tower by R. L. Stine
I would have liked to do more than 28 out 100, but that's not a bad place.
Oh I took pictures too! Okay, these are fun. So I started putting all the books I'd read that I own in a box in my closet around May or June, because I wanted a physical representation of them. Let's talk about that.
The books on the left are books I read and decided to get rid of, and the books on the right are the books I read and decided to keep.
These are books I started to read and dnfed or thought I was going to read but decided I wasn't really interested in them, and I'm going to pass along. I liked doing this, honestly. It was very interesting to look back on the physical proof of my Beat the Backlist challenge.
And that's everything for this year's challenges! Nice to be all caught up again.
How did you do on your reading challenges this year?
Peace and cookies,
Laina