Can't Wait Wednesday is a weekly meme hosted by Tressa of
Wishful Endings
. It's based on Waiting on Wednesday, which was created by Jill
Breaking the Spine
. Buy links include affiliate links, where I can earn a small commission if you purchase through them.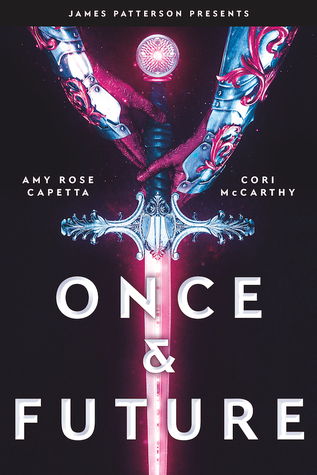 Once and Future by Amy Rose Capetta and Cori McCarthy
Release date:
March 5th, 2019
Amazon
/
Book Depository
/
Indiebound
Summary (from goodreads): "I've been chased my whole life. As an illegal immigrant in the territory controlled by the tyrannical Mercer corporation, I've always had to hide who I am. Until I found Excalibur.
Now I'm done hiding.
My name is Ari Helix. I have a magic sword, a cranky wizard, and a revolution to start."
When Ari crash-lands on Old Earth and pulls a magic sword from its ancient resting place, she is revealed to be the newest reincarnation of King Arthur. Then she meets Merlin, who has aged backward over the centuries into a teenager, and together they must break the curse that keeps Arthur coming back. Their quest? Defeat the cruel, oppressive government and bring peace and equality to all humankind.
No pressure.
The part where I talk:
This just sounds super fun. I really love this idea of a teen girl being King Arthur, and this really does seem like a cool new spin on the mythology. Really neat cover, too.
A Good Kind of Trouble by Lisa Moore Ramée
Release date:
March 12, 2019
Amazon
/
Book Depository
/
Indiebound
Summary (from goodreads):
Twelve-year-old Shayla is allergic to trouble. All she wants to do is to follow the rules. (Oh, and she'd also like to make it through seventh grade with her best friendships intact, learn to run track, and have a cute boy see past her giant forehead.)
But in junior high, it's like all the rules have changed. Now she's suddenly questioning who her best friends are and some people at school are saying she's not black enough. Wait, what?
Shay's sister, Hana, is involved in Black Lives Matter, but Shay doesn't think that's for her. After experiencing a powerful protest, though, Shay decides some rules are worth breaking. She starts wearing an armband to school in support of the Black Lives movement. Soon everyone is taking sides. And she is given an ultimatum.
Shay is scared to do the wrong thing (and even more scared to do the right thing), but if she doesn't face her fear, she'll be forever tripping over the next hurdle. Now that's trouble, for real.
The part where I talk:
Remember how I said in my CWW about
Good Enough
that there's some MG that makes my heart hurt because it's so necessary? This is one of them. I don't want police violence to
need
to be something that's explored in MG, but it is, and I think this, like
Blended
, is going to handle it incredibly well.
Also, I love the cover.
That's it for me this week!
Peace and cookies,
Laina