This is a series where I look at my old Waiting on Wednesday posts and talk about if I actually ever did read the book, if I liked it if I did, and if I haven't, would I or not. That kind of thing. I think it's an interesting idea, and I hope you do, too.
And remember, after February 28th this blog will no longer be updating. Follow me on
Wordpress
to continue reading (please!).
WoWed September 9th, 2009:
Dirty Little Secrets by C. J. Omololu
Release date
: February 1st, 2010
Summary (from goodreads):
Everyone has a secret. But Lucy's is bigger and dirtier than most. It's one she's been hiding for years—that her mom's out-of-control hoarding has turned their lives into a world of garbage and shame. She's managed to keep her home life hidden from her best friend and her crush, knowing they'd be disgusted by the truth. So, when her mom dies suddenly in their home, Lucy hesitates to call 911 because revealing their way of life would make her future unbearable—and she begins her two-day plan to set her life right.
With details that are as fascinating as they are disturbing, C. J. Omololu weaves an hour-by-hour account of Lucy's desperate attempt at normalcy. Her fear and isolation are palpable as readers are pulled down a path from which there is no return, and the impact of hoarding on one teen's life will have readers completely hooked.
Update:
I haven't read this, but I did actually
read one with a similar premise
(minus the dead mother part) that took me about six years to find the title of. And involved actually going to my physical records because I read it before I was good at keeping track of what I read on goodreads. Holy cow, that was an intense search.
I would still read this if I came across it, totally.
Sleepless by Cyn Balog
Release date:
July 13th, 2010
Summary (from goodreads):
Eron DeMarchelle isn't supposed to feel this connection. He is a Sandman, a supernatural being whose purpose is to seduce his human charges to sleep. Though he can communicate with his charges in their dreams, he isn't encouraged to do so. After all, becoming too involved in one human's life could prevent him from helping others get their needed rest.
But he can't deny that he feels something for Julia, a lonely girl with fiery red hair and sad dreams. Just weeks ago, her boyfriend died in a car accident, and Eron can tell that she feels more alone than ever. Eron was human once too, many years ago, and he remembers how it felt to lose the one he loved. In the past, Eron has broken rules to protect Julia, but now, when she seems to need him more than ever, he can't reach her. Eron's time as a Sandman is coming to a close, and his replacement doesn't seem to care about his charges. Worse, Julia is facing dangers she doesn't recognize, and Eron, as he transitions back to being human, may be the only one who can save her. . . .
Even once they've become human again, Sandmen are forbidden to communicate with their charges. But Eron knows he won't be able to forget Julia. Will he risk everything for a chance to be with the girl he loves?
Update:
Apparently I own this? I totally forgot that and it's not even recorded that way on my goodreads shelf. Other than that, I have to stay a bit coy on this one, for reasons. I haven't read it yet, and that's all I can say.
WoWed September 16th, 2009:
My Love Lies Bleeding by Alyxandra Harvey, also known as Hearts At Stake
Release date:
January 1st, 2010
Summary (from goodreads):
On Solange's sixteenth birthday, she is going to wake up dead. As if that's not bad enough, she also has to outwit her seven overprotective older brothers, avoid the politics involved with being the only daughter born to an ancient vampire dynasty, and elude Kieran Black—agent of an anti-vampire league who is searching for his father's killer and is intent on staking Solange and her entire family.
Luckily she has her own secret weapon—her human best friend Lucy—who is willing to defend Solange's right to a normal life, whether she's being smothered by her well-intentioned brothers or abducted by a power-hungry queen. Two unlikely alliances are formed in a race to save Solange's eternal life—Lucy and Solange's brother Nicholas, and Solange and Kieran Black—in a dual romance that is guaranteed to jump start any romance-lover's heart.
Update:
This just isn't my thing so much anymore.
Token of Darkness by Amelia Atwater-Rhodes
Release date:
February 9th, 2010
Summary (from goodreads):
Cooper Blake has everything going for him - until he wakes from a car accident with his football career in ruins and a mysterious, attractive girl by his side. Cooper doesn't know how Samantha got there or why he can see her; all he knows is that she's a ghost, and the shadows that surround her seem intent on destroying her.
No one from Cooper's old life would understand what he can barely grasp himself... But Delilah, the captain of the cheerleading squad, has secrets of her own, like her ability to see beyond the physical world, and her tangled history with Brent, a loner from a neighboring school who can hear strangers' most intimate thoughts. Delilah and Brent know that Cooper is in more trouble than he realizes, and that Samantha may not be as innocent as she has led Cooper to believe. But the only way to figure out where Samantha came from will put them all in more danger than they ever dreamed possible.
Update:
I would love to collect this entire series and maybe even reread the whole thing. I remember it with great fondness.
Possessed by Kate Cann
Release date:
February 1st, 2010
Summary (from goodreads and sorry it's so short):
Rayne can't wait to start her summer job at a remote country mansion, far from the crowded, noisy London she so desperately wants to escape.
But the retreat soon turns into a nightmare -- the mansion is creepy, the legends of ghosts keep Rayne up at night, and she doesn't feel safe anywhere.
Can Rayne figure out why she's so freaked -- before she becomes a ghost story herself?
Update:
While I didn't read this one, I totally would.
Actually, honestly, I might order it from the library. It does sound really good and right up my alley.
Chasing Brooklyn by Lisa Schroeder
Release date:
January 5th, 2010
Summary (from goodreads):
Brooklyn can't sleep. Her boyfriend, Lucca, died only a year ago, and now her friend Gabe has just died of an overdose. Every time she closes her eyes, Gabe's ghost is there waiting for her. She has no idea what he wants or why it isn't Lucca visiting her dreams.
Nico can't stop. He's always running, trying to escape the pain of losing his brother, Lucca. But when Lucca's ghost begins leaving messages, telling Nico to help Brooklyn, emotions come crashing to the surface.
As the nightmares escalate and the messages become relentless, Nico reaches out to Brooklyn. But neither of them can admit that they're being haunted. Until they learn to let each other in, not one soul will be able to rest.
Update:
Didn't read this, but I totally would if I found it at a sale or it showed up at my library branch or something. That's a cool premise, and it's apparently told in verse.
WoWed September 30th, 2009:
Birthmarked by Carah M. O'Brien
Release date:
March 30th, 2010
Summary (from goodreads): I
n the future, in a world baked dry by the harsh sun, there are those who live inside the walled Enclave and those, like sixteen-year-old Gaia Stone, who live outside.
Following in her mother's footsteps Gaia has become a midwife, delivering babies in the world outside the wall and handing a quota over to be "advanced" into the privileged society of the Enclave. Gaia has always believed this is her duty, until the night her mother and father are arrested by the very people they so loyally serve.
Now Gaia is forced to question everything she has been taught, but her choice is simple: enter the world of the Enclave to rescue her parents, or die trying.
Update:
Oh, this got a new cover since I WoWed it. Hmm, pretty, but points off for not having the MC as visibly scarred on the cover. I like the font choice, though. I'd totally still read this. It sounds neat.
WoWed October 7th, 2009:
The Deathday Letter by Shaun David Hutchinson
Release date:
June 15th, 2009
Summary (from goodreads):
The clock is ticking...
Ollie can't be bothered to care about anything but girls until he gets his Deathday Letter and learns he's going to die in twenty-four hours. Bummer.
Ollie does what he does best: nothing. Then his best friend convinces him to live a little, and go after Ronnie, the girl who recently trampled his about-to-expire heart. Ollie turns to carloads of pudding and over-the-top declarations, but even playing the death card doesn't work. All he wants is to set things right with the girl of his dreams. It's now or never...
Update:
I never read this one, and honestly I'm not a big fan of the author, and I don't read that many books by dudes anymore, so I won't be picking this one up.
The Poison Eaters by Holly Black
Release date:
February 9th, 2010
Summary (from goodreads):
Pick your poison: Vampires, devils, werewolves, faeries, or . . . ? Find them all here in Holly Black's amazing first collection.
In her debut collection, New York Times best-selling author Holly Black returns to the world of Tithe in two darkly exquisite new tales. Then Black takes readers on a tour of a faerie market and introduces a girl poisonous to the touch and another who challenges the devil to a competitive eating match. Some of these stories have been published in anthologies such as 21 Proms, The Faery Reel, and The Restless Dead, and many have been reprinted in many "Best of " anthologies.
The Poison Eaters is Holly Black's much-anticipated first collection, and her ability to stare into the void—and to find humanity and humor there—will speak to young adult and adult readers alike.
Update:
Weirdly I haven't read much Holly Black besides the Spiderwick Chronicles. I wouldn't... kick this book out of bed... why did my mind go there?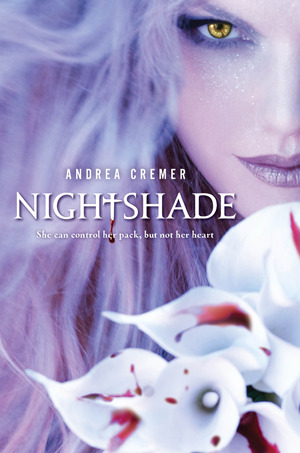 Nightshade by Andrea Cremer
Release date:
October 19th, 2010
Summary (from goodreads):
Calla Tor has always known her destiny: After graduating from the Mountain School, she'll be the mate of sexy alpha wolf Ren Laroche and fight with him, side by side, ruling their pack and guarding sacred sites for the Keepers.
But when she violates her masters' laws by saving a beautiful human boy out for a hike, Calla begins to question her fate, her existence, and the very essence of the world she has known.
By following her heart, she might lose everything- including her own life. Is forbidden love worth the ultimate sacrifice?
Update:
I actually got an ARC of this trading for an extra UK copy of Harry Potter. Random, I realize, but hey, I didn't need two of them. Have I read it? Nope. Will I? Who knows.
So out of the ten books in this post, I own two, and I've read none. This batch, not so good. Oh well!
Peace and cookies,
Laina