I thought instead of doing one massive post with my monthly challenge books and my bingo books, I'd split them up and that way I could talk about both challenges individually.
So I'll link to the
original post
first, and then get into things in more detail.
The theme was "stories based on/ inspired by diverse folktales/culture/mythology" and I read Shadowshaper for that.
Shadowshaper by Daniel José Older
Published:
June 30th, 2015 by Arthur A. Levine Books
Genre:
YA Urban Fantasy
Amazon
/
Book Depository
/
Indiebound
Summary (from goodreads):
Sierra Santiago was looking forward to a fun summer of making art, hanging out with her friends, and skating around Brooklyn. But then a weird zombie guy crashes the first party of the season. Sierra's near-comatose abuelo begins to say "No importa" over and over. And when the graffiti murals in Bed-Stuy start to weep.... Well, something stranger than the usual New York mayhem is going on.
Sierra soon discovers a supernatural order called the Shadowshapers, who connect with spirits via paintings, music, and stories. Her grandfather once shared the order's secrets with an anthropologist, Dr. Jonathan Wick, who turned the Caribbean magic to his own foul ends. Now Wick wants to become the ultimate Shadowshaper by killing all the others, one by one. With the help of her friends and the hot graffiti artist Robbie, Sierra must dodge Wick's supernatural creations, harness her own Shadowshaping abilities, and save her family's past, present, and future.
The part where I talk:
I really liked this, and
I reviewed it here
. I haven't ordered the sequel yet, and I really should.
The theme was a POC/ Biracial/ Multiracial Main Character/Lead and I chose One Crazy Summer.
One Crazy Summer by Rita Williams-Garcia
Published:
It was first published in 2010, but this edition is from Scholastic in 2012
Genre:
Historical MG
Amazon
/
Book Depository
/
Indiebound
Summary (from goodreads):
Eleven-year-old Delphine has it together. Even though her mother, Cecile, abandoned her and her younger sisters, Vonetta and Fern, seven years ago. Even though her father and Big Ma will send them from Brooklyn to Oakland, California, to stay with Cecile for the summer. And even though Delphine will have to take care of her sisters, as usual, and learn the truth about the missing pieces of the past.
When the girls arrive in Oakland in the summer of 1968, Cecile wants nothing to do with them. She makes them eat Chinese takeout dinners, forbids them to enter her kitchen, and never explains the strange visitors with Afros and black berets who knock on her door. Rather than spend time with them, Cecile sends Delphine, Vonetta, and Fern to a summer camp sponsored by a revolutionary group, the Black Panthers, where the girls get a radical new education.
The part where I talk:
I
loved
this book, reviewed it
here
, and read the whole series! I also reviewed the sequel in
this post
, and the third book will be reviewed in a post that will go up after this post goes up. Read a lot of books this year. Gonna take a while for all the posts to go up. But I can give you the
link, I think
.
The theme was disability and I chose Far From You.
Far From You by Tess Sharpe
Published:
It was published in spring 2014, but my edition was released August 11, 2015 by Disney Hyperion.
Genre:
YA Mystery
Amazon
/
Book Depository
/
Indiebound
Summary (from goodreads):
Sophie Winters nearly died. Twice.
The first time, she's fourteen, and escapes a near-fatal car accident with scars, a bum leg, and an addiction to Oxy that'll take years to kick.
The second time, she's seventeen, and it's no accident. Sophie and her best friend Mina are confronted by a masked man in the woods. Sophie survives, but Mina is not so lucky. When the cops deem Mina's murder a drug deal gone wrong, casting partial blame on Sophie, no one will believe the truth: Sophie has been clean for months, and it was Mina who led her into the woods that night for a meeting shrouded in mystery.
After a forced stint in rehab, Sophie returns home to a chilly new reality. Mina's brother won't speak to her, her parents fear she'll relapse, old friends have become enemies, and Sophie has to learn how to live without her other half. To make matters worse, no one is looking in the right places and Sophie must search for Mina's murderer on her own. But with every step, Sophie comes closer to revealing all: about herself, about Mina and about the secret they shared.
The part where I talk:
I think I actually should have actually made this my MC with Chronic Pain bingo square just for my own nitpicking(/other reasons I'll go into in my bingo post post), but I loved the book and
reviewed it here
.
The theme this month was mental health. I chose This Is Not a Test.
This Is Not a Test by Courtney Summers
Published:
June 19th, 2012 by St. Martin's Press
Genre:
YA Horror
Amazon
/
Book Depository
/
Indiebound
Summary (from goodreads):
It's the end of the world. Six students have taken cover in Cortege High but shelter is little comfort when the dead outside won't stop pounding on the doors. One bite is all it takes to kill a person and bring them back as a monstrous version of their former self. To Sloane Price, that doesn't sound so bad. Six months ago, her world collapsed and since then, she's failed to find a reason to keep going. Now seems like the perfect time to give up.
As Sloane eagerly waits for the barricades to fall, she's forced to witness the apocalypse through the eyes of five people who actually want to live. But as the days crawl by, the motivations for survival change in startling ways and soon the group's fate is determined less and less by what's happening outside and more and more by the unpredictable and violent bids for life—and death—inside. When everything is gone, what do you hold on to?
The part where I talk:
I liked most of this, and then I hated the ending. Talked about
that here
.
I didn't mention this in the post, but it took me about six years to figure out what the cover model was doing. I thought the model was standing facing to the left side of the cover and I could not figure out how they were doing that with their neck. I still have no clue what they're actually doing or why, but I'm not a model.
May's theme was religious diversity, and I chose Gena/Finn.
Gena/Finn by Hannah Moskowitz and Kat Helgeson
Published:
May 17th, 2016 by Chronicle Books
Genre:
Contemporary YA
Amazon
/
Book Depository
/
Indiebound
Summary (from goodreads):
Gena (short for Genevieve) and Finn (short for Stephanie) have little in common. Book-smart Gena is preparing to leave her posh boarding school for college; down-to-earth Finn is a twenty-something struggling to make ends meet in the big city. Gena's romantic life is a series of reluctant one-night-stands; Finn is making a go of it with long-term boyfriend Charlie.
But they share a passion for Up Below, a buddy cop TV show with a cult fan following. Gena is a darling of the fangirl scene, keeping a popular blog and writing fan fiction. Finn's online life is a secret, even from Charlie. The pair spark an unlikely online friendship that deepens quickly (so quickly it scares them both), and as their individual "real" lives begin to fall apart, they increasingly seek shelter online, and with each other.
The part where I talk:
This was such an interesting book.
Reviewed it here
. I really want to read more of Hannah's books, and not just because I like her, lol.
This month's theme was sexuality and gender identity and the book I read in June was Under Threat.
Under Threat by Robin Stevenson
Published:
January 1st, 2016 by Orca Book Publishers
Genre:
Contemporary YA
Amazon
/
Book Depository
/
Indiebound
Summary (from goodreads):
Franny is close to her parents, adores her horse and is head over heels in love with her girlfriend, Leah. But Franny's parents are abortion providers at the local hospital, and an anonymous stranger is prepared to do whatever it takes to stop them. A stranger who phones at all hours. Who knows where they live. Who knows Franny's name.
When Leah's older brother, Jake, refers to her parents as baby killers, Franny starts to wonder if perhaps the threats aren't coming from a stranger at all. If she tells the police about her suspicions, she could lose her girlfriend. But if she doesn't--and if she's right--she could lose her parents.
The part where I talk:
I really liked this! I talked
about it here
, but I thought this was awesome.
July's theme was also sexuality and gender identity, and for this month, I read Tash Hearts Tolstoy.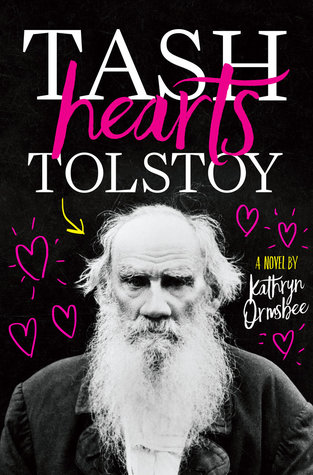 Tash Hearts Tolstoy by Kathryn Ormsbee
Published:
June 6th, 2017 by Simon and Schuster
Genre:
Contemporary YA
Amazon
/
Book Depository
/
Indiebound
Summary (from goodreads):
After a shout-out from one of the Internet's superstar vloggers, Natasha "Tash" Zelenka finds herself and her obscure, amateur web series, Unhappy Families, thrust into the limelight: She's gone viral.
Her show is a modern adaptation of Anna Karenina—written by Tash's literary love Count Lev Nikolayevich "Leo" Tolstoy. Tash is a fan of the forty thousand new subscribers, their gushing tweets, and flashy Tumblr GIFs. Not so much the pressure to deliver the best web series ever.
And when Unhappy Families is nominated for a Golden Tuba award, Tash's cyber-flirtation with Thom Causer, a fellow award nominee, suddenly has the potential to become something IRL—if she can figure out how to tell said crush that she's romantic asexual.
Tash wants to enjoy her newfound fame, but will she lose her friends in her rise to the top? What would Tolstoy do?
The part where I talk:
I had lots of feelings about this, and reviewed
it here
.
This month's theme was non-Western setting, and I read Listen, Slowly.
Listen, Slowly by Thanhhà Lại
Published:
February 17th, 2015 by HarperCollins
Genre:
Contemporary MG
Amazon
/
Book Depository
/
Indiebound
Summary (from goodreads):
A California girl born and raised, Mai can't wait to spend her vacation at the beach. Instead, though, she has to travel to Vietnam with her grandmother, who is going back to find out what really happened to her husband during the Vietnam War. Mai's parents think this trip will be a great opportunity for their out-of-touch daughter to learn more about her culture.
But to Mai, those are their roots, not her own. Vietnam is hot, smelly, and the last place she wants to be. Besides barely speaking the language, she doesn't know the geography, the local customs, or even her distant relatives. To survive her trip, Mai must find a balance between her two completely different worlds.
The part where I talk:
This was amazing. I really, really liked it, and talked about it
here
. I think I also bought a book by the author recently but I'm not one hundred percent sure. I have
September's theme was quite simply own voices, and I read Lucy and Linh.
Lucy and Linh by Alice Pung
Published:
Originally published November 2014 as Laurinda by Black Inc. Books, this edition was released September 6th, 2016 by Knopf Books for Young Readers
Genre:
Contemporary YA
Amazon
/
Book Depository
/
Indiebound
Summary (from goodreads):
Lucy is a bit of a pushover, but she's ambitious and smart, and she has just received the opportunity of a lifetime: a scholarship to a prestigious school, and a ticket out of her broken-down suburb. Though she's worried she will stick out like badly cut bangs among the razor-straight students, she is soon welcomed into the Cabinet, the supremely popular trio who wield influence over classmates and teachers alike.
Linh is blunt, strong-willed, and fearless—everything Lucy once loved about herself. She is also Lucy's last solid link to her life before private school, but she is growing tired of being eclipsed by the glamour of the Cabinet.
As Lucy floats further away from the world she once knew, her connection to Linh—and to her old life—threatens to snap. Sharp and honest, Alice Pung's novel examines what it means to grow into the person you want to be without leaving yourself behind.
The part where I talk:
I did not like this
very much
.
This month's theme was intersectionality, and I read My Basmati Bat Mitzvah.
My Basmati Bat Mitzvah by Paula J. Freedman
Published:
October 1st, 2013 by Harry N. Abrams
Genre:
Contemporary MG
Binding:
Paperback
Page Count:
236 plus recipe and a glossary.
Part of a series?
Nope.
Got via:
The library.
Amazon
/
Book Depository
/
Indiebound
Summary (from goodreads):
During the fall leading up to her bat mitzvah, Tara (Hindi for "star") Feinstein has a lot more than her Torah portion on her mind. Between Hebrew school and study sessions with the rabbi, there doesn't seem to be enough time to hang out with her best friend Ben-o--who might also be her boyfriend--and her other best friend, Rebecca, who's getting a little too cozy with that snotty Sheila Rosenberg. Not to mention working on her robotics project with the class clown Ryan Berger, or figuring out what to do with a priceless heirloom sari that she accidentally ruined.
Amid all this drama, Tara considers how to balance her Indian and Jewish identities and what it means to have a bat mitzvah while questioning her faith.
The part where I talk:
I liked this. The post talking about this one will be at
this link
a couple weeks after this post goes up.
This month's themee was diverse retelling and I did not read a book for that theme this month because it just did not happen. Life!
This month's theme was 2017 Releases and I chose the Takedown.
The Takedown by Corrie Wang
Published:
April 11th, 2017 by Freeform
Genre:
All the goodreads shelves of this are like Mystery and Contemporary but this is set in the future. It's like Science Fiction meets Thriller.
Binding:
Hardcover
Page Count:
369 plus an author's note and acknowledgements and such.
Part of a series?
Standalone
Got via:
The library.
Amazon
/
Book Depository
/
Indiebound
Summary (from goodreads):
Kyla Cheng doesn't expect you to like her. For the record, she doesn't need you to. On track to be valedictorian, she's president of her community club and a debate team champ, plus the yummy Mackenzie Rodriguez has firmly attached himself to her hip. She and her three high-powered best friends don't just own their senior year at their exclusive Park Slope, Brooklyn high school, they practically define the hated species Popular. Kyla's even managed to make it through high school completely unscathed.
Until someone takes issue with this arrangement.
A week before college applications are due, a video of Kyla "doing it" with her crush-worthy English teacher is uploaded to her school's website. It instantly goes viral, but here's the thing: it's not Kyla in the video. With time running out, Kyla delves into a world of hackers, haters and creepy stalkers in an attempt to do the impossible—take something off the internet—all while dealing with the fallout from her own karmic footprint.
The part where I talk:
I do not have a post to link to for this book because I have not written it yet. I will try and remember to come back and edit it in, but I haven't read the other books yet so I'm not promising anything.
Okay, I think I'm actually going to end this post here, and then talk about both the challenges in general in my end-of-year post.
See you then!
Peace and cookies,
Laina