If you're new around here, Things I've Read Recently is a series of posts I do that are basically mini-reviews of books that I either forgot to review, didn't have enough to say for a full review, or just didn't want to do a full post about for whatever reason.
Crooked Kingdom, Among the Sticks and Bones, Double Down, PS Be Eleven. Add links to previous books later.
Crooked Kingdom by Leigh Bardugo
Published:
September 20th, 2016 by Henry Holt and Company
Genre:
YA Fantasy
Binding:
Giant freaking hardcover
Page Count:
536 pages plus a character list and acknowledgements.
Part of a series?
This is the sequel to Six of Crows and the second in the sequel duology to the Grisha trilogy.
See my thoughts on Six of Crows here
.
Got via:
The library.
Amazon
/
Book Depository
/
Indiebound
Summary (from goodreads):
Kaz Brekker and his crew have just pulled off a heist so daring even they didn't think they'd survive. But instead of divvying up a fat reward, they're right back to fighting for their lives. Double-crossed and badly weakened, the crew is low on resources, allies, and hope.
As powerful forces from around the world descend on Ketterdam to root out the secrets of the dangerous drug known as jurda parem, old rivals and new enemies emerge to challenge Kaz's cunning and test the team's fragile loyalties. A war will be waged on the city's dark and twisting streets―a battle for revenge and redemption that will decide the fate of the Grisha world.
Thoughts:
Sorry, guys, I didn't really like this one. And there's not a catch here of "but I loved it" just... I didn't really like it that much. These books are very meh for me. This one, for instance, took me almost two weeks to read it. I put it down, and I didn't really have any motivation to pick it back up. The characters can be interesting, sometimes, and the banter can be fun now and then, but they get lost in how dull I find the writing most of the time. It just doesn't draw me in, and I find it hard to get through.
I also think the book is bloated. When there are four flashbacks in four chapters, that's just too much. Honestly I would have liked it a lot more if it were a couple hundred pages shorter. I like long books, but this feels unnecessarily long and so often it becomes very repetitive. I felt like I was climbing a mountain to finish this thing.
One of the things that annoys me, though, is that the rep is good in some areas. I think the chronic pain representation is handled pretty dark well, and the PTSD rep isn't bad either. The queer rep is okay - there's only three queer characters that we know of, and all of them are dudes, but the queer couple is really cute. They were one of my favourite parts of the book. There's like no fat rep in my opinion. I do not consider "plump" characters to be fat rep (and fyi the weight loss in that character could be triggering). And there
is not ace rep
don't believe what you might have heard. There were also some things that made me uncomfortable, so I'm going to link to
this review
for more detail on that.
All in all, these just are not for me. I know a lot of other people like them, but I'm really not one of them.
Down Among the Sticks and Bones by Seanan McGuire
Published:
June 13th, 2017 by Tor
Genre:
Adult Fantasy
Binding:
Hardcover
Page Count:
Part of a series?
This is the second in the Wayward Children series. It's technically a prequel to Every Heart a Doorway, which you can
see my review of here
.
Got via: The library
Amazon
/
Book Depository
/
Indiebound
Summary (from goodreads):
Twin sisters Jack and Jill were seventeen when they found their way home and were packed off to Eleanor West's Home for Wayward Children.
This is the story of what happened first…
Jacqueline was her mother's perfect daughter—polite and quiet, always dressed as a princess. If her mother was sometimes a little strict, it's because crafting the perfect daughter takes discipline.
Jillian was her father's perfect daughter—adventurous, thrill-seeking, and a bit of a tom-boy. He really would have preferred a son, but you work with what you've got.
They were five when they learned that grown-ups can't be trusted.
They were twelve when they walked down the impossible staircase and discovered that the pretense of love can never be enough to prepare you a life filled with magic in a land filled with mad scientists and death and choices.
Thoughts:
Am I cheating including this in a sequel post? I can't think of a fourth book otherwise XD
Anyways, I really liked this. It's nice having another queer MC, especially one whose love interest is a fat girl. Never enough positive fat girls in books. There are some serious truths spoken in this. I apparently zoned after reading this and also took like no notes so this isn't the best review, but I enjoy this series and I'm looking forward to the third one, and hopefully more.
Double Down by Gwenda Bond
Published:
May 1st, 2016 by Switch Press
Genre:
YA Science Fiction
Binding:
Hardcover
Page Count:
382 plus the about the author
Part of a series?
This is book two in the Lois Lane series.
See my thoughts on Fallout here
.
Got via:
The library.
Amazon
/
Book Depository
/
Indiebound
Summary (from goodreads):
Lois Lane has settled in to her new school. She has friends, for maybe the first time in her life. She has a job that challenges her. And her friendship is growing with SmallvilleGuy, her online maybe-more-than-a-friend.
But when her friend Maddy's twin collapses in a part of town she never should've been in, Lois finds herself embroiled in a dangerous mystery that brings her closer to the dirty underbelly of Metropolis.
Thoughts:
It's still a few weeks until Supergirl comes back, and this is a great way to get my fix of superhero stuff. (I also have a Ms. Marvel that's about four down on my reading stack. Soon, my pretty, soon.) Honestly, I have the third book in this series waiting for me and I'd much rather be reading it than writing this!
However, I do want to get my thoughts down on this. I continue to be impressed at how Bond manages to make the comic book universe feel true to what it is without coming across as silly or cheesy. The atmosphere in this book is so tense and honestly scary at times, in a good way. The fear that the characters feel truly comes across, and it's a great mystery. The book jumps straight into the action, and because we already know these characters from the last book, it can do that without the action being meaningless. We already care about them, so it's exciting and fun.
I also loved how family relationships, especially between sisters, was so important to this book. And I'm super excited about some of the mysteries that haven't been revealed yet. I still think it's super lacking in queer rep, and it's not the most diverse overall honestly, but I really enjoy this series and I'm going to go read the third book now.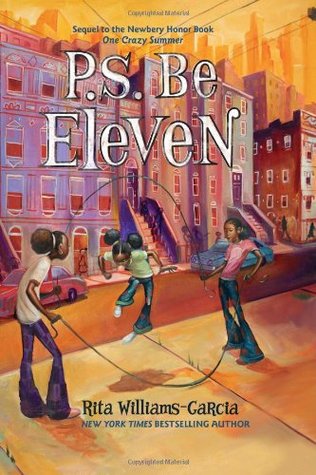 P.S. Be Eleven by Rita Williams-Garcia
Published:
May 21st, 2013 by Amistad
Genre:
Historical MG
Binding:
Hardcover
Page Count:
272 plus acknowledgements and an author's note.
Part of a series?
This is book two in the Gaither Sisters series.
See my review of book one here
.
Got via:
The library.
Amazon
/
Book Depository
/
Indiebound
Summary (from goodreads):
After spending the summer in Oakland with their mother and the Black Panthers, Delphine, Vonetta, and Fern arrive home with a newfound streak of independence, and the sisters aren't the only ones who have changed. Now Pa has a girlfriend. Uncle Darnell returns from Vietnam a different man. But Big Ma still expects Delphine to keep her sisters in line. That's much harder now that Vonetta and Fern refuse to be bossed around.
Besides her sisters, Delphine's got plenty of other things to worry about-like starting sixth grade, being the tallest girl in her class, and dreading the upcoming school dance (her first). The one person she confides in is her mother, Cecile. Through letters, Delphine pours her heart out and receives some constant advice: to be eleven while she can.
Thoughts:
I really liked One Crazy Summer, and I liked this almost as much. To some extant I think it might almost be trying to do a little too much, and things might not get quite as much depth as they could have, but overall it's a good, solid book.
I still really enjoy the pop culture references. They give good context to the time period, and many would still be familiar to a young audience reading this today. Mixed into things that might be new to many (including adult audiences) that are more political, like the first black black congresswoman Shirley Chisholm being elected.
Overall, a solid book, and I continue to love Delphine. I didn't like it more than One Crazy Summer, but it's a solid entry in the series and I look forward to the next one.
That's it for now I think! And our year's almost done I think if I'm calculating this right in September.
What have you guys been reading?
Peace and cookies,
Laina