So! I should probably have posted this on Canada Day, but that would have meant I thought of it sooner than the fifteenth. But I thought this would still be interesting, even if it is a little late.
Books in this post come from
Casey the Canadian Lesbrarian
,
Queer YA
again and also my own knowledge because sometimes I know things. (Not that kind of thing, Lucia.)
Way to Go by Tom Ryan
Published:
April 1st, 2012 by Orca Book Publisher
Genre:
Contemporary YA
Amazon
/
Book Depository
/
Indiebound
Summary (from goodreads):
Danny thinks he must be the only seventeen-year-old guy in Cape Breton--in Nova Scotia, maybe--who doesn't have his life figured out. His buddy Kierce has a rule for every occasion, and his best friend Jay has bad grades, no plans and no worries.
Danny's dad nags him about his post-high-school plans, his friends bug him about girls and a run-in with the cops means he has to get a summer job. Worst of all, he's keeping a secret that could ruin everything.
Rhythm and Blues by Jill Murray
Published:
February 9th, 2010 by Doubleday Canada
Genre:
Contemporary YA
Amazon
and I think this is out of print because I can't find it on Indiebound or Book Depository, but there's a kindle version.
Summary (from goodreads):
Many of the things in Alya's life have been unexpected: She never anticipated receiving a full scholarship to the private school she attends; she never thought she would end up as a member of Hydra Force, the hottest all-girl breakdancing crew around, or that she would be "discovered" and asked to be part of a cool new girl group called EnChantay... But that's what happens to her, and overnight, Alya's life changes.
She moves to Montreal and begins voice lessons, practicing choreography with the two other members of EnChantay, and filming a video for their single. Yet, of all the unexpected things in her life, Alya is most surprised when she finds herself questioning the person she is, and feeling things that she never imagined feeling...all for one of her friends.
Evil? by Timothy Carter
Published:
August 1st, 2009 by Flux
Genre:
YA Fantasy
Amazon
/
Indiebound
Summary (from goodreads):
Stuart Bradley knows there are a lot of reasons people in his small, conservative hometown might not approve of him. He's openly gay, he's mouthy in church, and he conjures demons in his spare time—the usual. So Stuart knows something is odd when his little brother catches him "self-pleasuring" in the shower and, before he knows it, an angry mob is chasing down every teen who ever had an "impure" thought.
Stuart soon discovers that the new preacher in town is more than he seems. He's a fallen angel-fallen because he became too obsessed with a certain harmless adolescent activity. If Stuart and his demon sidekick don't stop him, blindness is going to be the least of anyone's worries.
(Laina note - I actually
WoWed
this at one point back when I still did that and my formatting was terrible and actually just don't read that post, it's a mess. Anyways, it sounds interesting.)
Another Kind of Cowboy by Susan Juby
Published:
2007 by HarperCollins Canada
Genre:
Contemporary YA
Amazon
/
Indiebound
Summary (from goodreads):
Alex Ford wishes his father had seen the movie Brokeback Mountain. Because then he might understand that it's possible to be a gay cowboy. Trouble is, Alex doesn't even want to be a cowboy; his dream is to ditch Western-style riding and take up dressage. But with his mother long gone, his father ensconced in an RV in the driveway, his messy Aunt Grace the Hair Stylist installed in the kitchen (whose cooking tastes like her hairdressing smells), and his Kung Fu–obsessed younger twin sisters, Alex knows that his dream is highly unlikely. So when he does get the chance to try the meticulously intricate art of dressage riding and then bumps into the supremely self absorbed Cleo at a competition, it's a whole new world for Alex.
Cleo's been sent to a very posh, very horsey boarding school nearby because of an unfortunate incident with her handsome chauffeur. Cleo doesn't get why Alex is so serious about everything, especially when his family is so…interesting. But now Alex is about to lose even the slender hold he has on his dream—and on the secret he's not yet ready to reveal. Meanwhile, Cleo has fallen in with the party crowd, forgetting all about her precious horse. Does this mean Alex and Cleo's fledgling friendship is doomed from the start?
First Spring Grass Fire by Rae Spoon
Published:
September 18th, 2012 by Arsenal Pulp Press
Genre:
Memoir
Amazon
/
Book Depository
/
Indiebound
Summary (from goodreads):
Transgender indie electronica singer-songwriter Rae Spoon has six albums to their credit, including 2012's I Can't Keep All of Our Secrets. This first book by Rae (who uses "they" as a pronoun) is a candid, powerful story about a young person growing up queer in a strict Pentecostal family in rural Canada.
The narrator attends church events and Billy Graham rallies faithfully with their family before discovering the music that becomes their salvation and means of escape. As their father's schizophrenia causes their parents' marriage to unravel, the narrator finds solace and safety in the company of their siblings, in their nascent feelings for a girl at school, and in their growing awareness that they are not the person their parents think they are. With a heart as big as the prairie sky, this is a quietly devastating, heart-wrenching coming-of-age book about escaping dogma, surviving abuse, finding love, and risking everything for acceptance.
(Laina note - the library actually has this, so if you're in Saskatchewan too, you can order this through yours. If you're not in Saskatchewan, check anyways! Also, there's a documentary called "My Prairie Home" on Netflix that's also about them.)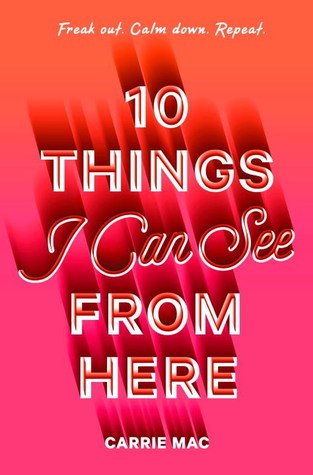 10 Things I Can See From Here by Carrie Mac
Published:
February 28th, 2017 by Alfred A. Knopf Books for Young Readers
Genre:
Contemporary YA
Amazon
/
Book Depository
/
Indiebound
Summary (from goodreads): Think positive.
Don't worry; be happy.
Keep calm and carry on.
Maeve has heard it all before. She's been struggling with severe anxiety for a long time, and as much as she wishes it was something she could just talk herself out of, it's not. She constantly imagines the worst, composes obituaries in her head, and is always ready for things to fall apart. To add to her troubles, her mom—the only one who really gets what Maeve goes through—is leaving for six months, so Maeve will be sent to live with her dad in Vancouver.
Vancouver brings a slew of new worries, but Maeve finds brief moments of calm (as well as even more worries) with Salix, a local girl who doesn't seem to worry about anything. Between her dad's wavering sobriety, her very pregnant stepmom insisting on a home birth, and her bumbling courtship with Salix, this summer brings more catastrophes than even Maeve could have foreseen. Will she be able to navigate through all the chaos to be there for the people she loves?
(Laina note - I really wanna read this one. You may see it around here eventually.)
Gravity by Leanne Lieberman
Published: November 1st, 2008 by Orca Book Publishers
Genre: Contemporary YA
Amazon
/
Book Depository
/
Indiebound
Summary (from goodreads):
Ellie Gold is an orthodox Jewish teenager living in Toronto in the late eighties. Ellie has no doubts about her strict religious upbringing until she falls in love with another girl at her grandmother's cottage.
Aware that homosexuality clashes with Jewish observance, Ellie feels forced to either alter her sexuality or leave her community. Meanwhile, Ellie's mother, Chana, becomes convinced she has a messianic role to play, and her sister, Neshama, chafes against the restrictions of her faith.
Ellie is afraid there is no way to be both gay and Jewish, but her mother and sister offer alternative concepts of God that help Ellie find a place for herself as a queer Jew.
Girl Mans Up by M-E Girard
Published:
September 16th, 2016 by HarperCollins
Genre:
Contemporary YA
Amazon
/
Book Depository
/
Indiebound
Summary (from goodreads):
All Pen wants is to be the kind of girl she's always been. So why does everyone have a problem with it? They think the way she looks and acts means she's trying to be a boy—that she should quit trying to be something she's not. If she dresses like a girl, and does what her folks want, it will show respect. If she takes orders and does what her friend Colby wants, it will show her loyalty.
But respect and loyalty, Pen discovers, are empty words. Old-world parents, disintegrating friendships, and strong feelings for other girls drive Pen to see the truth--that in order to be who she truly wants to be, she'll have to man up.
(Laina note - I didn't actually know this was set in Canada before this!)
Cinnamon Toast and the End of the World by Janet E. Cameron
Published:
May 7th, 2013 by Hachette Books
Genre:
Contemporay YA
Amazon
/
Book Depository
/
Indiebound
Summary (from goodreads):
Stephen Shulevitz remembers the end of the world. Two o'clock in the morning on a Saturday night, in Riverside, Nova Scotia when he realises he has fallen in love - with exactly the wrong person.
There are no volcanic eruptions. No floods or fires. Just Stephen, watching TV with his best friend, realising that life, as he knows it, will never be the same.
The smart move would be to run away - from Riverside, his overbearing hippie mother, his distant pot-smoking father - and especially his feelings. But then Stephen begins to wonder: what would happen if he had the courage to face the end of the world head on?
Rough Patch by Nicole Markotic
Published:
May 16th, 2017 by Arsenal Pulp Press
Genre:
Contemporary YA
Amazon
/
Book Depository
/
Indiebound
Summary (from goodreads):
When fifteen-year-old Keira starts high school, she almost wishes she could write "Hi, my name is Keira, and I'm bisexual!" on her nametag. Needless to say, she's actually terrified to announce—let alone fully explore—her sexuality. Quirky but shy, loyal yet a bit zany, Keira navigates her growing interest in kissing both girls and boys while not alienating her BFF, boy-crazy Sita. As the two acclimate to their new high school, they manage to find lunch tablemates and make lists of the school's cutest boys. But Keira is caught "in between"—unable to fully participate, yet too scared to come clean.
She's also feeling the pressure of family: parents who married too young and have differing parenting styles; a younger sister in a wheelchair from whom adults expect either too little or too much; and her popular older brother who takes pleasure in taunting Keira. She finds solace in preparing for the regional finals of figure skating, a hobby she knows is geeky and "het girl" yet instills her with confidence. But when she meets a girl named Jayne who seems perfect for her, she isn't so confident she can pull off her charade any longer.
Hello Groin by Beth Goobie
Published:
October 1st, 2006 by Orca Book Publishers
Genre:
Contemporary YA
Amazon
/
Book Depository
/
Indiebound
Summary (from goodreads):
When Dylan Kowolski agrees to create a display for her high school library, she has no idea of the trouble it's going to cause--for the school principal, her family, her boyfriend Cam and his jock friends, and her best friend Jocelyn. And for Dylan herself.
If only her English class had been studying a normal, run-of-the-mill, mundane book like Lord of the Flies instead of Foxfire things wouldn't have gotten so twisted. Then the world wouldn't have gone into such a massive funk. And then Dylan wouldn't have had to face her deepest fear and the way she was letting it run her life.
(Laina note - I adored Beth Goobie's books when I was a kid. She sounds
really interesting
, too, honestly.)
Under Threat by Robin Stevenson
Published:
January 1st, 2016 by Orca Books Publishers
Genre:
Contemporary YA
Amazon
/
Book Depository
/
Indiebound
Summary (from goodreads):
Franny is close to her parents, adores her horse and is head over heels in love with her girlfriend, Leah. But Franny's parents are abortion providers at the local hospital, and an anonymous stranger is prepared to do whatever it takes to stop them. A stranger who phones at all hours. Who knows where they live. Who knows Franny's name.
When Leah's older brother, Jake, refers to her parents as baby killers, Franny starts to wonder if perhaps the threats aren t coming from a stranger at all. If she tells the police about her suspicions, she could lose her girlfriend. But if she doesn't - and if she's right - she could lose her parents.
(Laina note - I actually have read this, and my post about it will be up in late August. Because I really liked it, I really want to check out some more books by the author, including the following.)
Inferno by Robin Stevenson
Published:
April 1st, 2009 by Orca Book Publishers
Genre:
Contemporary YA
Amazon
/
Book Depository
/
Indiebound
Summary (from goodreads):
Dante thinks high school is an earthly version of hell. She hates her new home in the suburbs, her best friend has moved away, her homeroom teacher mocks her and her mother is making her attend a social skills group for teenage girls.
When a stranger shows up at school and hands Dante a flyer that reads:
Woof, woof. You are not a dog. Why are you going to obedience school?
, Dante thinks she's found a soul mate. Someone who understands. Someone else who wants to make real changes in the world.
But there are all kinds of ways of bringing about change...and some are more dangerous than others.
Big Guy by Robin Stevenson
Published:
April 1st, 2007 by Orca Book Publishers
Genre:
Contemporary YA
Amazon
/
Book Depository
/
Indiebound
Summary (from goodreads):
Derek thinks he might be falling in love. The problem is, he hasn't been entirely honest with his online boyfriend. Derek sent Ethan a photo taken before he got depressed and gained eighty pounds.
Derek hasn't been honest with his employer either. When he lied about his age and experience to get a job with disabled adults, the last thing he expected was to meet a woman like Aaliyah. Smart, prickly and often difficult, Aaliyah challenges Derek's ideas about honesty and trust. Derek has to choose whether to risk telling the truth or to give up the most important relationship in his life.
(Laina note - I really want to see how this handles the fat representation. Hopefully there's not a weight loss arc.)
The Scorpion Rules by Erin Bow
Published:
September 22nd, 2015 by Margaret K. McElderry Books
Genre:
Dystopian YA
Amazon
/
Book Depository
/
Indiebound
Summary (from goodreads):
Greta is a Duchess and a Crown Princess. She is also a Child of Peace, a hostage held by the de facto ruler of the world, the great Artificial Intelligence, Talis. This is how the game is played: if you want to rule, you must give one of your children as a hostage. Start a war and your hostage dies.
The system has worked for centuries. Parents don't want to see their children murdered.
Greta will be free if she can make it to her eighteenth birthday. Until then she is prepared to die with dignity, if necessary. But everything changes when Elian arrives at the Precepture. He's a hostage from a new American alliance, and he defies the machines that control every part of their lives—and is severely punished for it. His rebellion opens Greta's eyes to the brutality of the rules they live under, and to the subtle resistance of her companions. And Greta discovers her own quiet power.
Then Elian's country declares war on Greta's and invades the prefecture, taking the hostages hostage. Now the great Talis is furious, and coming himself to deliver punishment. Which surely means that Greta and Elian will be killed...unless Greta can think of a way to break all the rules.
(Laina note - I really liked
this series
, and yes, they are set in Canada. No one ever seems to talk about how queer they are either!)
So, Scouts, did you find something to read?
Peace and popsicles,
Laina