Well, since Luci shared theirs, I thought that I might as well talk about what books I'll be reading this summer. I am still doing Diversity Bingo and the reading diversely challenge, but I'm only combining them for a couple of the books, and I might switch things out later.
But for now, this is my to read list. Subject to change though.
July Prompts:
1) Read a book that represents (part of) your queer identity.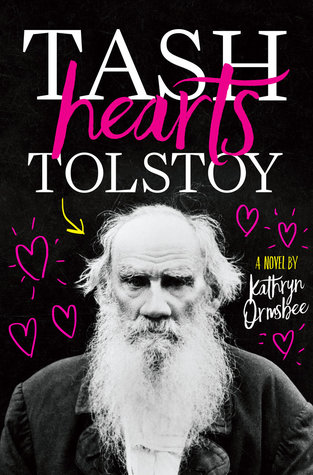 Tash Hearts Tolstoy by Kathryn Ormsbee
Summary from goodreads:
After a shout-out from one of the Internet's superstar vloggers, Natasha "Tash" Zelenka finds herself and her obscure, amateur web series, Unhappy Families, thrust into the limelight: She's gone viral.
Her show is a modern adaptation of Anna Karenina—written by Tash's literary love Count Lev Nikolayevich "Leo" Tolstoy. Tash is a fan of the forty thousand new subscribers, their gushing tweets, and flashy Tumblr GIFs. Not so much the pressure to deliver the best web series ever.
And when Unhappy Families is nominated for a Golden Tuba award, Tash's cyber-flirtation with Thom Causer, a fellow award nominee, suddenly has the potential to become something IRL—if she can figure out how to tell said crush that she's romantic asexual.
Tash wants to enjoy her newfound fame, but will she lose her friends in her rise to the top? What would Tolstoy do?
The part where I talk:
This is also my July book. It's hard to find ace books that I can get from the library, and I cannot buy books right now. Also I'm just really excited about this XD I hope it gets here soon!
Don't forget we'll be having a chat with
Kathryn in August
!
1. b) Read an ownvoices queer book.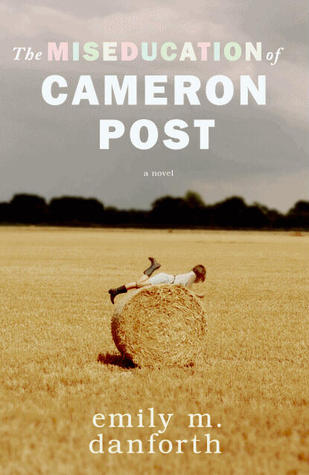 The Miseducation of Cameron Post by Emily M. Danforth
Summary from goodreads:
When Cameron Post's parents die suddenly in a car crash, her shocking first thought is relief. Relief they'll never know that, hours earlier, she had been kissing a girl.
But that relief doesn't last, and Cam is soon forced to move in with her conservative aunt Ruth and her well-intentioned but hopelessly old-fashioned grandmother. She knows that from this point on, her life will forever be different. Survival in Miles City, Montana, means blending in and leaving well enough alone (as her grandmother might say), and Cam becomes an expert at both.
Then Coley Taylor moves to town. Beautiful, pickup-driving Coley is a perfect cowgirl with the perfect boyfriend to match. She and Cam forge an unexpected and intense friendship — one that seems to leave room for something more to emerge. But just as that starts to seem like a real possibility, ultrareligious Aunt Ruth takes drastic action to 'fix' her niece, bringing Cam face-to-face with the cost of denying her true self — even if she's not exactly sure who that is.
The part where I talk:
I'm trying to get all the badges honestly. I think I should, if I'm one of the creators of QSR, right? ;) I was looking at different lists of books because... I like lists... and this was on one of them. I thought it sounded interesting, and my library has it, so I ordered it.
2. Read a book that represents a different aspect of queeerness.
How to Make a Wish by Ashley Herring Blake
Summary from goodreads:
All seventeen year-old Grace Glasser wants is her own life. A normal life in which she sleeps in the same bed for longer than three months and doesn't have to scrounge for spare change to make sure the electric bill is paid. Emotionally trapped by her unreliable mother, Maggie, and the tiny cape on which she lives, she focuses on her best friend, her upcoming audition for a top music school in New York, and surviving Maggie's latest boyfriend—who happens to be Grace's own ex-boyfriend's father.
Her attempts to lay low until she graduates are disrupted when she meets Eva, a girl with her own share of ghosts she's trying to outrun. Grief-stricken and lonely, Eva pulls Grace into midnight adventures and feelings Grace never planned on. When Eva tells Grace she likes girls, both of their worlds open up. But, united by loss, Eva also shares a connection with Maggie. As Grace's mother spirals downward, both girls must figure out how to love and how to move on.
The part where I talk:
I'm also reading this for bingo, but it'll be the last one that I use for two things. I already have this sitting next to me, so that's why I'm using it, honestly.
2. b) Read a book set in a different country.
The Summer Prince by Alaya Dawn Johnson
Summary from goodreads:
The lush city of Palmares Tres shimmers with tech and tradition, with screaming gossip casters and practiced politicians. In the midst of this vibrant metropolis, June Costa creates art that's sure to make her legendary. But her dreams of fame become something more when she meets Enki, the bold new Summer King. The whole city falls in love with him (including June's best friend, Gil). But June sees more to Enki than amber eyes and a lethal samba. She sees a fellow artist.
Together, June and Enki will stage explosive, dramatic projects that Palmares Tres will never forget. They will add fuel to a growing rebellion against the government's strict limits on new tech. And June will fall deeply, unfortunately in love with Enki. Because like all Summer Kings before him, Enki is destined to die.
The part where I talk:
I found this on a list so I might have to swap it out? I'm not entirely sure on this one. And technically all queer books set in the US are set in a different country than I live in, being all Canadian and whatnot. But this one looked interesting, and my library had it, so I just ordered it.
August Prompts:
1) Read a queer book from a genre you read a lot.
Shallow Graves by Kali Wallace
Summary from goodreads:
Breezy remembers leaving the party: the warm, wet grass under her feet, her cheek still stinging from a slap to her face. But when she wakes up, scared and pulling dirt from her mouth, a year has passed and she can't explain how.
Nor can she explain the man lying at her grave, dead from her touch, or why her heartbeat comes and goes. She doesn't remember who killed her or why. All she knows is that she's somehow conscious—and not only that, she's able to sense who around her is hiding a murderous past.
Haunted by happy memories from her life, Breezy sets out to find answers in the gritty, threatening world to which she now belongs—where killers hide in plain sight, and a sinister cult is hunting for strange creatures like her. What she discovers is at once empowering, redemptive, and dangerous.
The part where I talk:
This says horror, paranormal, and mystery on the genres on goodreads. Between those and the summary, THIS IS EVERYTHING I LOVE. I know almost nothing about this book, and I don't want to look into it more. I've already ordered it and I want it right now.
2) Read a queer book from a genre you rarely read.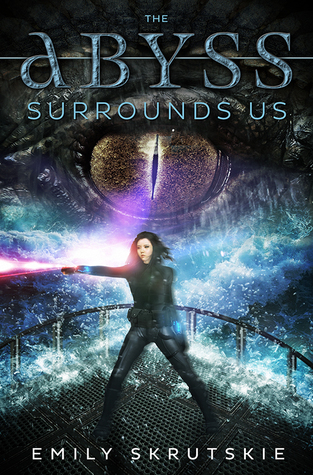 The Abyss Surrounds Us
Summary from goodreads:
For Cassandra Leung, bossing around sea monsters is just the family business. She's been a Reckoner trainer-in-training ever since she could walk, raising the genetically-engineered beasts to defend ships as they cross the pirate-infested NeoPacific. But when the pirate queen Santa Elena swoops in on Cas's first solo mission and snatches her from the bloodstained decks, Cas's dream of being a full-time trainer seems dead in the water.
There's no time to mourn. Waiting for her on the pirate ship is an unhatched Reckoner pup. Santa Elena wants to take back the seas with a monster of her own, and she needs a proper trainer to do it. She orders Cas to raise the pup, make sure he imprints on her ship, and, when the time comes, teach him to fight for the pirates. If Cas fails, her blood will be the next to paint the sea.
The part where I talk:
I'm not really sure if this is more science fiction or fantasy, but either way I don't read a lot of either.
Alternative prompt 1) Read a queer comic/graphic novel.
The One Hundred Nights of Hero
Summary from goodreads:
In the Empire of Migdal Bavel, Cherry is married to Jerome, a wicked man who makes a diabolical wager with his friend Manfred: if Manfred can seduce Cherry in one hundred nights, he can have his castle--and Cherry.
But what Jerome doesn't know is that Cherry is in love with her maid Hero. The two women hatch a plan: Hero, a member of the League of Secret Story Tellers, will distract Manfred by regaling him with a mesmerizing tale each night for 100 nights, keeping him at bay. Those tales are beautifully depicted here, touching on themes of love and betrayal and loyalty and madness.
The part where I talk:
A friend recommended this when I was looking for random recommendations because I was signed into the library website and looking for stuff to read. Since I already have it checked out, I'll probably just save it for August and read it then. It looks interesting and I think I'll like it a whole lot better than that, ahem, other Arabian Nights retelling I read recently.
Alternative prompt 2) Read a queer non-fiction book:
Queer, There, and Everywhere by Sarah Prager
Summary from goodreads:
World history has been made by countless lesbian, gay, bisexual, transgender, and queer individuals—and you've never heard of many of them. Queer author and activist Sarah Prager delves deep into the lives of 23 people who fought, created, and loved on their own terms. From high-profile figures like Abraham Lincoln and Eleanor Roosevelt to the trailblazing gender-ambiguous Queen of Sweden and a bisexual blues singer who didn't make it into your history books, these astonishing true stories uncover a rich queer heritage that encompasses every culture, in every era.
By turns hilarious and inspiring, the beautifully illustrated Queer, There, and Everywhere is for anyone who wants the real story of the queer rights movement.
The part where I talk:
This is like the only queer non-fiction book I know, but lucky for me it does look interesting. I really want my queer
moose
.
*counts* Yeah, that's eight books. So I think that's all of them, right? Right.
If you guys post about your tbrs, link the post in our
linky thing
!
Peace and popsicles,
Laina