So I wasn't sure if the book I ordered would actually work for the "book set in another country" prompt and I was looking for a backup book to order just in case it didn't work out. I was asking Luci for help and then I asked Twitter and then it kind of spiraled so, look, blog post!
If you're in the US, you can read books set in Canada, and other Canadian peeps can read books set in the US, but I wanted to challenge myself a little more. There is probably going to be a lot of YA because that's kind of my thing, but there were definitely some recommendations from other people that are a bit different from my usual thing!
This post will be long. A bunch of these, though, have kindle version that are under five dollars, and a couple are even free.
Thanks to
Deirdre
for these suggestions!
Beijing Comrades by Beijing Tongzhi
Published:
Originally in 1996!
Genre:
Adult... Fiction? Wow, I'm bad at writing about adult books!
Amazon
/
Book Depository
/
Indiebound
Summary (from goodreads):
When Handong, a ruthless and wealthy businessman, is introduced to Lan Yu, a naïve, working-class architectural student—the attraction is all consuming.
Arrogant and privileged, Handong is unsettled by this desire, while Lan Yu quietly submits. Despite divergent lives, the two men spend their nights together, establishing a deep connection. When loyalties are tested, Handong is left questioning his secrets, his choices, and his very identity.
Beijing Comrades is the story of a torrid love affair set against the sociopolitical unrest of late-eighties China. Due to its depiction of gay sexuality and its critique of the totalitarian government, it was originally published anonymously on an underground gay website within mainland China. This riveting and heartbreaking novel, circulated throughout China in 1998, quickly developed a cult following, and remains a central work of queer literature from the People's Republic of China.
(NSFW image next.)
Partings At Dawn edited by Stephen Miller
Published:
July 29th, 1996 by Gay Sunshine Press
Genre:
Adult Anthology
Amazon
/
Book Depository
Summary (from goodreads):
Partings at Dawn is a brilliant collection of literature on gay themes covering eight hundred years of Japanese culture---from 1200 to the last decade of the 20th century. It includes stories such as "The Tale of Genmu" and "The Story of Kannon's Manifestation as a Youth"---how a Buddhist Bodhisattva gives his blessing to a gay relationship. The renowned 17th century writer Ihara Saikaku is well represented with his stories of samurai and actors and their boyloves. The amazing 17th century collection Wild Azaleas (the world's premier gay anthology of stories and poems) is presented here for the first time within the pages of a book.
(Laina note: Hehe. *immature snickering* Butt.)
(I'm actually a five year old.)
Our Caribbean edited by Thomas Glave
Published:
May 20th, 2008 by Duke University Press Books
Genre:
Adult Anthology
Amazon
/
Book Depository
/
Indiebound
Summary (from goodreads):
The first book of its kind, Our Caribbean is an anthology of lesbian and gay writing from across the Antilles. The author and activist Thomas Glave has gathered outstanding fiction, nonfiction, memoir, and poetry by little-known writers together with selections by internationally celebrated figures such as José Alcántara Almánzar, Reinaldo Arenas, Dionne Brand, Michelle Cliff, Audre Lorde, Achy Obejas, and Assotto Saint. The result is an unprecedented literary conversation on gay, lesbian, bisexual, and transgendered experiences throughout the Caribbean and its far-flung diaspora. Many selections were originally published in Spanish, Dutch, or creole languages; some are translated into English here for the first time.
Angelwings translated by Fran Martin
Published:
March 1st, 2003 by University of Hawaii Press
Genre:
Adult Anthology
Amazon
/
Book Depository
/
Indiebound
Summary (from goodreads):
Lesbian and gay--or queer--fiction (known in Mandarin as tongzhi wenxue) constitutes a major contribution to Taiwanese literature, as evidenced by the remarkable number of prestigious literary awards won by many of the authors of the short stories presented here. But most strikingly, this fiction has been immensely popular with general readers in Taiwan, Hong Kong, and Singapore, as well as in diasporic Chinese communities worldwide.
The Vintage Book of International Lesbian Fiction edited by Naomi Holoch and Joan Nestle
Published:
June 1st, 1999 by Vintage
Genre:
Adult Anthology
Amazon
/
Book Depository
Summary (from goodreads):
A groundbreaking volume from Lamda Award-winning editors Naomi Holoch and Joan Nestle, The Vintage Book of International Lesbian Fiction presents a range of literary voices--from twenty-seven countries spanning six continents--and offers glimpses of lesbian life in unfamilar, often exotic climes.
We follow an Irish woman as she travels through time in search of a wronged maiden, and anticipate the harrowing fate of a married Indian woman who pursues pleasure with her female lover under the shadow of her husbands suspicious rage. We meet a teacher in Barcelona who locks herself up in her grandmother's house with her young Columbian student, and witness a Slovenian woman's rendezvous with her long dead lover.
This collection includes the work of familiar writers, as well as a number never before published in English. From the West Indies to Eastern Europe, the Middle East to Southeast Asia, Latin America to South Africa, the distinctive stories found in these pages evoke the diverse political, cultural, emotional, and sexual landscapes of each writer's life. A groundbreaking volume from the Lamda Award-winning editors Naomi Holoch and Joan Nestle, who also wrote the introduction, this collections evokes the universal urgency of persistent desire.
Yellow Rose by Nobuko Yoshiya
Published:
January 14th, 2015 by Expanded Editions
Genre:
Short story? I'm not entirely sure on this one!
Amazon
Summary (from goodreads):
Yoshiya Nobuko's short-story series Flower Stories (Hana monogatari) is widely known for launching the genre of shōjo fiction--stories expressly written for girls and young women. For the first time in English, one of the most ardent and influential of the collection, "Yellow Rose," is published with a translator's introduction, era-specific design and list of further readings. It will appeal to all readers of fine fiction, especially those with an interest in women's writings, genre fiction, youth culture, queer writings, and twentieth-century modernist styles.
(Laina note - this cover is so pretty. Seriously, I would legit put this on my wall as a piece of art.)
Miles Away From You by A. B. Rutledge
Published:
To be released March 20th, 2018 by HMH
Genre:
Contemporary YA
Amazon
Summary (from goodreads):
It's been three years since Miles fell for Vivian, a talented and dazzling transgender girl. Eighteen months since a suicide attempt left Vivian on life support. Now Miles isn't sure who he is without her, but knows it's time to figure out how to say goodbye.
He books a solo trip to Iceland but then has a hard time leaving the refuge of his hotel room. After a little push from Óskar, a local who is equal parts endearing and aloof, Miles decides to honor Vivian's life by photographing her treasured Doc Martens standing empty against the surreal landscapes. With each step he takes, Miles finds his heart healing—even as he must accept that Vivian, still in a coma, will never recover.
Told through a series of instant messages to Vivian, this quirky and completely fresh novel explores love, loss, and the drastic distances we sometimes have to travel in order to move on.
(Laina note: Okay, so this one kinda doesn't count because it's not out and you can't really get it, but Deirdre mentioned it and I was intrigued. It looks interesting and I'm curious.)
Sinead
suggested these ones:
No More Heroes by Michelle Kan
Published:
2015!
Genre:
YA Urban Fantasy
Amazon
/
Book Depository
/
Indiebound
Summary (from goodreads):
The peaceful nights are kept under the clandestine and watchful eye of young, gifted vigilantes the world over. But a sudden rash of vigilante deaths heralds the arrival of a new and unfamiliar enemy – one whose motive is as unclear as their identity. Someone or something seems determined to disturb the peace, and they're going straight for the watchmen to do it. In a city where those who are gifted make up their own rules, who will step forward when the threat of a swift end is real and there stands so little to gain?
No More Heroes is an urban fantasy action/adventure novel about young, would-be heroes who get more than they bargained for when they delve deeper into a world they never knew they were a part of. Featuring a diverse cast of players, discord, a mystery to be solved, plenty of literary action and high-stakes battles, No More Heroes is a story about self-belief and camaraderie, persistence in the face of trials, and what it means to be the best version of yourself.
(Laina note: This
technically
is set in a fictional city, but we decided to count it because we wanted to. The fictional city isn't based on anything in the US or Canada.)
The Terracotta Bride by Zen Cho
Published:
March 10th, 2016
Genre:
Fantasy Novella
Amazon
(this is only 2 dollars on kindle)
Summary (from goodreads):
In the tenth court of hell, spirits wealthy enough to bribe the bureaucrats of the underworld can avoid both the torments of hell and the irreversible change of reincarnation.
It's a comfortable undeath … even for Siew Tsin. She didn't choose to be married to the richest man in hell, but she's reconciled. Until her husband brings home a new bride.
Yonghua is an artificial woman crafted from terracotta. What she is may change hell for good. Who she is will transform Siew Tsin. And as they grow closer, the mystery of Yonghua's creation will draw Siew Tsin into a conspiracy where the stakes are eternal life – or a very final death.
(Laina note - seriously this cover is so beautiful.)
Consu Mesones
suggested: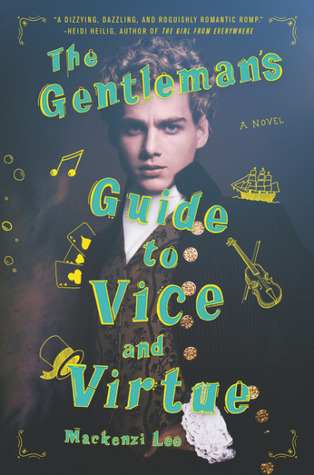 The Gentleman's Guide to Vice and Virtue by Mackenzi Lee
Published:
June 27th, 2017 by Katherine Tegan Books
Genre:
YA Fantasy
Amazon
/
Book Depository
/
Indiebound
Summary (from goodreads):
Henry "Monty" Montague was born and bred to be a gentleman, but he was never one to be tamed. The finest boarding schools in England and the constant disapproval of his father haven't been able to curb any of his roguish passions—not for gambling halls, late nights spent with a bottle of spirits, or waking up in the arms of women or men.
But as Monty embarks on his Grand Tour of Europe, his quest for a life filled with pleasure and vice is in danger of coming to an end. Not only does his father expect him to take over the family's estate upon his return, but Monty is also nursing an impossible crush on his best friend and traveling companion, Percy.
Still it isn't in Monty's nature to give up. Even with his younger sister, Felicity, in tow, he vows to make this yearlong escapade one last hedonistic hurrah and flirt with Percy from Paris to Rome. But when one of Monty's reckless decisions turns their trip abroad into a harrowing manhunt that spans across Europe, it calls into question everything he knows, including his relationship with the boy he adores.
E H Timms
suggested:
Replica by Jack Heath
Published:
August 7th, 2014 by Oxford University Press
Genre:
YA Science Fiction
Amazon
/
Book Depository
Summary (from goodreads):
'Whose body is that on the table?' I ask.
She stares at me, as though the answer is obvious. 'It's yours,' she says.
Before I have time to scream, she types a command on the keyboard. My consciousness whirls away like storm water down a drain.
Chloe wakes up to find all her memories have been wiped. And the only person who knows what happened is a teenage girl who looks and sounds exactly like her.
Who is she? And what does she want?
Chloe is running out of time to discover the truth. But she's in even more danger than she realizes, and nothing is as it seems...
Ann Elise Monte
linked me to
this list
which I think is awesome, and a few selections from that are:
The Shattering by Karen Healey
Published:
September 5th, 2011 by Little, Brown and Company
Genre:
YA Mystery/Paranormal
Amazon
/
Book Depository
/
Indiebound
Summary (from goodreads): "If you want to find out who murdered your brother, follow me."
Keri, Janna, and Sione have one thing in common: Their older brothers are dead. Each death was ruled a suicide, but there were no notes, no warnings, and no explanations.
So they've worked out a theory: Their brothers were murdered - and weren't the only victims.
As the search for the serial killer goes on, mysterious forces are unearthed and suspicion is cast on the those the three trust most. When secrets shatter around them, can they save the next victim? Or will they become victims themselves?
Songs That Sound Like Blood by Jared Thomas
Published:
August 1st, 2016 by Magabala Books
Genre:
Contemporary YA
Amazon
Summary (from goodreads):
Roxy May Redding's got music in her soul and songs in her blood. She lives in a hot dusty town and is dreaming big. She survives run-ins with the mean girls at high school, sings in her dad's band and babysits for her wayward aunt. But Roxy wants a new start. When she gets the chance to study music in the big city, she takes it. Roxy's new life, her new friends and her music collide in a way she could never have imagined.
Being a poor student sucks... navigating her way through the pressure of a national music competition has knobs on it... singing for her dinner is soul destroying... but nothing prepares Roxy for her biggest challenge. Her crush on Ana, the local music journo, forces her to steer her way through a complex maze of emotions alien to this small town girl. Family and friends watch closely as Roxy takes a confronting journey to find out who the hell she is.
The Rosebush Murders by Ruth Shidlo
Published: October 31st, 2012 by Hoopoe Publishing
Genre: Adult Mystery
Amazon
(as of writing this post the kindle version is FREE) /
Indiebound
Summary (from
goodreads
): In this first Helen Mirkin novel, Jerusalem-based Detective Inspector Helen Mirkin is challenged with solving the murder of psychologist Dr. Danielle Hall. Before much progress is made, a second murder occurs. Are they related?
The investigation takes DI Mirkin to a state-of-the-art fertility clinic. How does this fit in? Is the killer trying to cover their tracks? Can they be stopped before more die?
Fingersmith by Sarah Waters
Published:
October 1st, 2002
Genre:
Adult Historical Mystery
Amazon
/
Book Depository
/
Indiebound
Summary (from goodreads):
Sue Trinder is an orphan, left as an infant in the care of Mrs. Sucksby, a "baby farmer," who raised her with unusual tenderness, as if Sue were her own. Mrs. Sucksby's household, with its fussy babies calmed with doses of gin, also hosts a transient family of petty thieves—fingersmiths—for whom this house in the heart of a mean London slum is home.
One day, the most beloved thief of all arrives—Gentleman, an elegant con man, who carries with him an enticing proposition for Sue: If she wins a position as the maid to Maud Lilly, a naïve gentlewoman, and aids Gentleman in her seduction, then they will all share in Maud's vast inheritance. Once the inheritance is secured, Maud will be disposed of—passed off as mad, and made to live out the rest of her days in a lunatic asylum.
With dreams of paying back the kindness of her adopted family, Sue agrees to the plan. Once in, however, Sue begins to pity her helpless mark and care for Maud Lilly in unexpected ways...But no one and nothing is as it seems in this Dickensian novel of thrills and reversals.
(Laina note - I think they made a BBC series of this, too!)
My dearest Luci suggested these:
Black Deutschland by Darryl Pinckney
Published:
February 2nd, 2016 by Farrar, Straus and Giroux
Genre:
Adult historical fiction
Amazon
/
Book Depository
/
Indiebound
Summary (from goodreads):
Jed--young, gay, black, out of rehab and out of prospects in his hometown of Chicago--flees to the city of his fantasies, a museum of modernism and decadence: Berlin. The paradise that tyranny created, the subsidized city isolated behind the Berlin Wall, is where he's chosen to become the figure that he so admires, the black American expatriate. Newly sober and nostalgic for the Weimar days of Isherwood and Auden, Jed arrives to chase boys and to escape from what it means to be a black male in America.
But history, both personal and political, can't be avoided with time or distance. Whether it's the judgment of the cousin he grew up with and her husband's bourgeois German family, the lure of white wine in a down-and-out bar, a gang of racists looking for a brawl, or the ravaged visage of Rock Hudson flashing behind the face of every white boy he desperately longs for, the past never stays past even in faraway Berlin. In the age of Reagan and AIDS in a city on the verge of tearing down its walls, he clambers toward some semblance of adulthood amid the outcasts and expats, intellectuals and artists, queers and misfits. And, on occasion, the city keeps its Isherwood promises and the boy he kisses, incredibly, kisses him back.
Get It Together, Delilah! by Erin Gough (also known as The Flywheel)
Published:
February 1st, 2015 by Hardie Grant Egmont
Genre:
Contemporary YA
Amazon
/
Book Depository
/
Indiebound
Summary (from goodreads):
Seventeen-year-old Delilah Green wouldn't have chosen to do her last year of school this way, but she figures it's working fine. While her dad goes on a trip to fix his broken heart after her mom left him for another man, Del manages the family cafe. Easy, she thinks.
But what about homework? Or the nasty posse of mean girls making her life hell? Or her best friend who won't stop guilt-tripping her? Or her other best friend who might go to jail for love if Del doesn't do something? But really, who cares about any of that when all Del can think about is beautiful Rosa who dances every night across the street. . . . Until one day Rosa comes in the cafe door. And if Rosa starts thinking about Del, too, then how in the name of caramel milkshakes will Del get the rest of it together?
(Laina note: My library doesn't have this and I'm bummed. It looks cute!)
Books I found in
this article
,
this blog
, and random other places on the internet.
If You Could Be Mine by Sara Farizan
Published:
August 20th, 2013 by Alqonquin Young Readers
Genre:
Contemporary YA
Amazon
/
Book Depository
/
Indiebound
Summary (from goodreads):
Seventeen-year-old Sahar has been in love with her best friend, Nasrin, since they were six. They've shared stolen kisses and romantic promises. But Iran is a dangerous place for two girls in love—Sahar and Nasrin could be beaten, imprisoned, even executed if their relationship came to light.
So they carry on in secret—until Nasrin's parents announce that they've arranged for her marriage. Nasrin tries to persuade Sahar that they can go on as they have been, only now with new comforts provided by the decent, well-to-do doctor Nasrin will marry. But Sahar dreams of loving Nasrin exclusively—and openly.
Then Sahar discovers what seems like the perfect solution. In Iran, homosexuality may be a crime, but to be a man trapped in a woman's body is seen as nature's mistake, and sex reassignment is legal and accessible. As a man, Sahar could be the one to marry Nasrin. Sahar will never be able to love the one she wants, in the body she wants to be loved in, without risking her life. Is saving her love worth sacrificing her true self?
(Laina note: I've heard mixed things about this. Look up reviews and stuff. I'm just saying this exists, not endorsing it, or saying anything one way or another.) (Maybe look up the real life situation with tihs, too, for context.)
A Darkly Beating Heart by Lindsay Smith
Published:
October 25th, 2016 by Roaring Brook Press
Genre:
YA... Science Fiction or Fantasy, I'm not entirely sure.
Amazon
/
Book Depository
/
Indiebound
Summary (from goodreads):
No one knows what to do with Reiko. She is full of hatred. All she can think about is how to best hurt herself and the people closest to her. After a failed suicide attempt, Reiko's parents send her from their Seattle home to spend the summer with family in Japan to learn to control her emotions.
But while visiting Kuramagi, a historic village preserved to reflect the nineteenth-century Edo period, Reiko finds herself slipping back in time into the life of Miyu, a young woman even more bent on revenge than Reiko herself. Reiko loves being Miyu, until she discovers the secret of Kuramagi village, and must face down Miyu's demons as well as her own.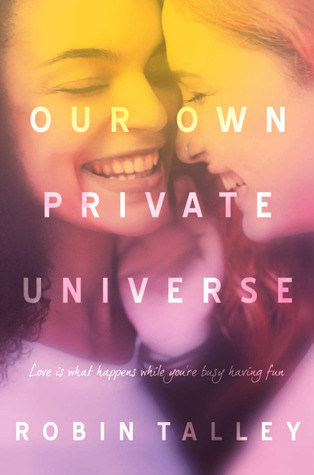 Our Own Private Universe by Robin Talley
Published:
January 1st, 2017 by Harlequin Teen
Genre:
Contemporary YA
Amazon
/
Book Depository
/
Indiebound
Summary (from goodreads):
Fifteen-year-old Aki Simon has a theory. And it's mostly about sex.
No, it isn't that kind of theory. Aki already knows she's bisexual—even if, until now, it's mostly been in the hypothetical sense. Aki has dated only guys so far, and her best friend, Lori, is the only person who knows she likes girls, too.
Actually, Aki's theory is that she's got only one shot at living an interesting life—and that means she's got to stop sitting around and thinking so much. It's time for her to actually do something. Or at least try.
So when Aki and Lori set off on a church youth-group trip to a small Mexican town for the summer and Aki meets Christa—slightly older, far more experienced—it seems her theory is prime for the testing.
But it's not going to be easy. For one thing, how exactly do two girls have sex, anyway? And more important, how can you tell if you're in love? It's going to be a summer of testing theories—and the result may just be love.
Another Word For Happy by Agay Llanera
Published:
January 30th, 2017
Genre:
Contemporary YA
Amazon
Summary (from goodreads):
What does it take to come out of the closet?
Since he was thirteen, Caleb has always known he's gay. Now a college freshman, he falls in love for the first time. If it's true that love conquers all, then will Caleb finally find the courage to reveal his secret?
In this tale about family, friendship and self-discovery, find out how Caleb discovers the path to the freedom he's always longed for. Here's a hint: it involves doing things outside his comfort zone, such as joining a spoken word group!
(Laina note - how adorable is this cover?)
Kaleidoscope Song by Fox Benwell
Published:
To be released September 19th, 2017 by Simon and Schuster Books for Young Readers
Genre:
Contemporary YA
Amazon
/
Book Depository
/
Indiebound
Summary (from goodreads):
South Africa is loud. Listen. Do you hear the song and dance of it? The chorus of Khayelitsha life? Every voice is different, its pitch and tone and intonation as distinct as the words we choose and how we wrap our mouths around them. But everybody has a voice, and everybody sings…
Fifteen year old Neo loves music, it punctuates her life and shapes the way she views the world. A life in radio is all she's ever wanted.
When Umzi Radio broadcasts live in a nearby bar Neo can't resist. She sneaks out to see them, and she falls in love, with music, and the night, but also with a girl: Tale has a voice like coffee poured into a bright steel mug, and she commands the stage.
It isn't normal. Isn't right. Neo knows that she's supposed to go to school and get a real job and find a nice young boy to settle down with. It's written everywhere – in childhood games, and playground questions, in the textbooks, in her parents' faces. But Tale and music are underneath her skin, and try as she might, she can't stop thinking about them.
(Laina note - okay, this one isn't out yet, but if you have an ARC you could use it. Also I'm just excited about it.)
The Other Me by Suzanne van Rooyen
Published:
December 19th, 2013 by Harmony Ink Press
Genre:
Contemporary YA
Amazon
/
Book Depository
/
Indiebound
Summary (from
goodreads
): Fifteen-year-old Treasa Prescott thinks she's an alien. She doesn't fit in with the preppy South African private school crowd and feels claustrophobic in her own skin. Treasa is worried she might spend life as a social pariah when she meets Gabriel du Preez. Gabriel plays the piano better than Beethoven, has a black belt in karate, and would look good wearing a garbage bag. Treasa thinks he's perfect. It might even be love, as long as Gabriel doesn't find out she's a freak.
As Treasa spends time with Gabriel, she realizes she might not love him as much as she wants to be him, and that the reason she feels uncomfortable in her skin might have less to do with extra-terrestrial origins and more to do with being born in the wrong body.
But Gabriel is not the perfect boy Treasa imagines. He harbors dark secrets and self-destructive tendencies. Still, Treasa might be able to accept Gabriel's baggage if he can accept who she longs to be.
When Love Comes to Town by Tom Lennon
Published:
Originally released in 1993, it was re-released in 2013 by Albert Whitman Company
Genre:
Contemporary YA
Amazon
/
Book Depository
/
Indiebound
Summary (from goodreads):
The year is 1990, and in his hometown of Dublin, Ireland, Neil Byrne plays rugby, keeps up with the in-crowd at his school, and is just a regular guy. A guy who's gay. It's a secret he keeps from the wider world as he explores the city at night and struggles to figure out how to reveal his real self—and to whom. First published in Ireland in 1993 and compared to The Catcher in the Rye by critics, Tom Lennon's When Love Comes to Town is told with honesty, humor, and originality.
(Laina note - this book is almost as old as I am! This could be super interesting to read and see how it compares to modern YA and what's changed.)
365 Days by K. E. Payne
Published:
June 14th, 2011 by Bold Strokes Books
Genre:
Contemporary YA
Amazon
/
Book Depository
/
Indiebound
Summary (from goodreads):
One mixed-up girl, one dull boy, two hot distractions. How does one figure it all out?
Life sucks when you're fifteen years old, confused about your sexuality, and the girl of your dreams doesn't even know you exist. The sudden entrance of a hot new emo at school only adds to the confusion.
Clemmie Atkins thinks she's in love with her school friend, the mysterious and alluring J. Devastated that J doesn't even seem to know she exists, Clemmie tries to escape her feelings by dating the nice but dim Ben. Unfortunately for Clemmie—and Josh—J just won't leave her head, or her heart.
Until...
In walks sexy new-girl, Hannah Harrison. Before long, dreams of Hannah begin to eclipse the impossible thoughts of J and the boredom of Ben. Clemmie has exactly 365 days to discover herself, and she's going to have a blast doing it!
(Laina note - I'm pretty sure this is set in the UK. If not, at least
this book
by the author is.)
25
Street Dreams by Tama Wise
Published:
March 13th, 2012 by Bold Strokes Books
Genre:
Contemporary YA
Amazon
/
Book Depository
/
Indiebound
Summary (from goodreads):
Tyson Rua has more than his fair share of problems growing up in South Auckland. Working a night job to support his mother and helping bring up his two younger brothers is just the half of it. His best friend Rawiri is falling afoul of a broken home, and now Tyson's fallen in love at first sight.
Only thing is, it's another guy.
Living life on the sidelines of the local hip-hop scene, Tyson finds that to succeed in becoming a local graffiti artist or in getting the man of his dreams, he's going to have to get a whole lot more involved. And that means more problems. The least of which is the leader of the local rap crew he's found himself running with. Love, life, and hip-hop never do things by half.
Nightsiders by Sue Isle
Published:
March 28th, 2011 by Twelfth Planet Press
Genre:
Dystopian YA... anthology? It's like four short stories that make up the book.
Amazon
Summary (from goodreads):
In a future world of extreme climate change, Perth, Western Australia's capital city, has been abandoned. Most people were evacuated to the East by the late '30s and organised infrastructure and services have gone.
A few thousand obstinate and independent souls cling to the city and to the southern towns. Living mostly by night to endure the fierce temperatures, they are creating a new culture in defiance of official expectations. A teenage girl stolen from her family as a child; a troupe of street actors who affect their new culture with memories of the old; a boy born into the wrong body; and a teacher who is pushed into the role of guide tell the story of The Nightside.
Wildthorn by Jane Eagland
Published:
May 1st, 2009 by Picador
Genre:
Historical YA
Amazon
/
Book Depository
/
Indiebound
Summary (from goodreads):
Seventeen-year-old Louisa Cosgrove longs to break free from her respectable life as a Victorian doctor's daughter. But her dreams become a nightmare when Louisa is sent to Wildthorn Hall: labeled a lunatic, deprived of her liberty and even her real name.
As she unravels the betrayals that led to her incarceration, she realizes there are many kinds of prison. She must be honest with herself - and others - in order to be set free. And love may be the key...
(Laina note - Queer historical fiction AWWW YEAH. I want more of that!)
Hidden Voices by Pat Lowery Collins
Published:
May 12th, 2009 by Candlewick Press
Genre:
Historical YA
Amazon
/
Book Depository
/
Indiebound
Summary (from goodreads):
It is a longing and search for love that motivates three girls living in the Ospedale della Pietà, an orphanage renowned for its extraordinary musical program.
But for Rosalba, Anetta, and Luisa, the love they seek is not where they expect to find it. Set in the early 1700s in the heart of Venice, this remarkable novel deftly weaves the history of Antonio Vivaldi's early musical career into the lives of three young women who excel in voice and instrument.
Under the composer's tutelage and care, the orphans find expression, sustenance, and passion. But can the sheltered life of the orphanage prepare them for the unthinkable dangers outside its walls?
(Laina note - yeah, like that!)
Swimming in the Monsoon Sea by Shyam Selvadurai
Published:
September 13th, 2005 by Tundra Books
Genre:
Contemporary bordering on historical YA (1980, y'all)
Amazon
/
Book Depository
/
Indiebound
Summary (from goodreads):
The setting is Sri Lanka, 1980, and it is the season of monsoons. Fourteen-year-old Amrith is caught up in the life of the cheerful, well-to-do household in which he is being raised by his vibrant Auntie Bundle and kindly Uncle Lucky. He tries not to think of his life "before," when his doting mother was still alive.
Amrith's holiday plans seem unpromising: he wants to appear in his school's production of Othello and he is learning to type at Uncle Lucky's tropical fish business. Then, like an unexpected monsoon, his cousin arrives from Canada and Amrith's ordered life is storm-tossed. He finds himself falling in love with the Canadian boy. Othello, with its powerful theme of disastrous jealousy, is the backdrop to the drama in which Amrith finds himself immersed.
Alex as Well by Alyssa Brugman
Published:
January 30th, 2013 by Text Publishing
Genre:
Contemporary YA
Amazon
/
Book Depository
/
Indiebound
Summary (from goodreads):
What do you do when everybody says you're someone you're not?
Alex wants change. Massive change. More radical than you could imagine.
Her mother is not happy, in fact she's imploding. Her dad walked out.
Alex has turned vegetarian, ditched one school, enrolled in another, thrown out her clothes. And created a new identity. An identity that changes her world.
And Alex—the other Alex—has a lot to say about it.
Okay, so I think you'll all be able to find something to read! Appreciate the crud out of this list, please, because it took me like two days.
Peace and popsicles,
Laina