I'm not one hundred percent actually sure what I'm going to read yet, but I think I've mostly narrowed down my main books, plus some options if I want to swap books or feel like reading something else.
No More Heroes by Michelle Kan
Released:
Originally published in 2015, the edition I have is from February 2017 from Fish and Swallow Publications and yes I'm kind of just filling space here so my formatting isn't all wonky.
Sue me.
Summary (from goodreads):
The peaceful nights are kept under the clandestine and watchful eye of young, gifted vigilantes the world over. But a sudden rash of vigilante deaths heralds the arrival of a new and unfamiliar enemy – one whose motive is as unclear as their identity.
Someone or something seems determined to disturb the peace, and they're going straight for the watchmen to do it. In a city where those who are gifted make up their own rules, who will step forward when the threat of a swift end is real and there stands so little to gain?
Why I chose it:
Luci bought me this ages ago, and I've just been putting it off for some reason, and now's the time to knock that off!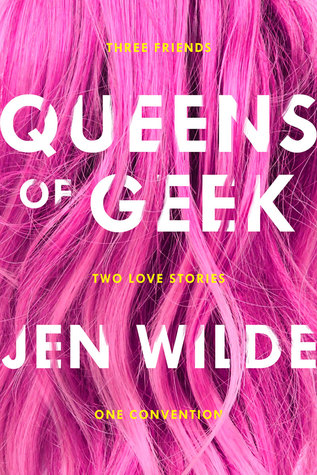 Queens of Geek by Jen Wilde
Released:
March 14th, 2017 by Swoon Reads
Summary (from goodreads):
Charlie likes to stand out. She's a vlogger and actress promoting her first movie at SupaCon, and this is her chance to show fans she's over her public breakup with co-star Reese Ryan. When internet-famous cool-girl actress Alyssa Huntington arrives as a surprise guest, it seems Charlie's long-time crush on her isn't as one-sided as she thought.
Taylor likes to blend in. Her brain is wired differently, making her fear change. And there's one thing in her life she knows will never change: her friendship with her best guy friend Jamie—no matter how much she may secretly want it to. But when she hears about a fan contest for her favorite fandom, she starts to rethink her rules on playing it safe.
Why I chose it:
I actually was thinking about reading this last year, but my library didn't have it when I went to order it, so it got away from me.
Juliet Takes a Breath by Gabby Rivera
Released:
January 18th, 2016 by Riverdale Avenue Books
Summary (from goodreads):
Juliet Milagros Palante is leaving the Bronx and headed to Portland, Oregon. She just came out to her family and isn't sure if her mom will ever speak to her again. But Juliet has a plan, sort of, one that's going to help her figure out this whole "Puerto Rican lesbian" thing. She's interning with the author of her favorite book: Harlowe Brisbane, the ultimate authority on feminism, women's bodies, and other gay-sounding stuff.
Will Juliet be able to figure out her life over the course of one magical summer? Is that even possible? Or is she running away from all the problems that seem too big to handle?
With more questions than answers, Juliet takes on Portland, Harlowe, and most importantly, herself.
Why I chose it:
It just sounds really good. I also kind of adore the cover.
The House You Pass on the Way by Jacqueline Woodson
Released:
September 8th, 1997 by Delacorte Books for Young Readers
Summary (from
goodreads
): Staggerlee is used to being alone. As the granddaughter of celebrities and the daughter of an interracial couple in an all-black town, she has become adept at isolating herself from curious neighbors. But then her cousin, Trout, comes to visit.
Trout is exactly like Staggerlee wishes she could be: outspoken, sure of herself, beautiful. Finally, Staggerlee has a friend, someone she can share her deepest, most private thoughts with. Someone who will teach her how to be the strong girl she longs to be. But is Trout really the girl Staggerlee thinks she is?
Why I chose it:
This is quite an older book, and as someone who reads quite a lot of older MG and YA, I'm really curious about it. And I really enjoyed Brown Girl Dreaming so I'd like to read more from the author in general, and the historical impact intrigues me.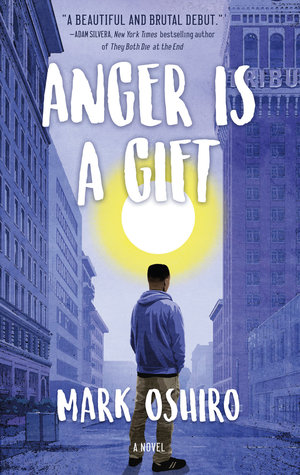 Anger is a Gift by Mark Oshiro
Released:
May 22nd, 2018 by - Tor Teen? I didn't know Tor did contemporary. Huh, that's interesting.
Summary (from goodreads):
Six years ago, Moss Jefferies' father was murdered by an Oakland police officer. Along with losing a parent, the media's vilification of his father and lack of accountability has left Moss with near crippling panic attacks.
Now, in his sophomore year of high school, Moss and his fellow classmates find themselves increasingly treated like criminals by their own school. New rules. Random locker searches. Constant intimidation and Oakland Police Department stationed in their halls. Despite their youth, the students decide to organize and push back against the administration.
When tensions hit a fever pitch and tragedy strikes, Moss must face a difficult choice: give in to fear and hate or realize that anger can actually be a gift.
Why I chose it:
Not gonna lie, I heard there was ace rep in this and I was like "Oh really". What can I say? Ace characters are a good way to shoot a book to the top of the read pile.
Hurricane Child by Kheryn Callender
Release date:
March 27th, 2018 by Scholastic
Summary (from goodreads):
Twelve-year-old Caroline is a Hurricane Child, born on Water Island during a storm. Coming into this world during a hurricane is unlucky, and Caroline has had her share of bad luck already. She's hated by everyone in her small school, she can see things that no one else can see, and -- worst of all -- her mother left home one day and never came back. With no friends and days filled with heartache, Caroline is determined to find her mother.
When a new student, Kalinda, arrives, Caroline's luck begins to turn around. Kalinda, a solemn girl from Barbados with a special smile for everyone, seems to see the things Caroline sees, too. Joined by their common gift, Kalinda agrees to help Caroline look for her mother, starting with a mysterious lady dressed in black. Soon, they discover the healing power of a close friendship between girls.
Why I chose it:
Along with wanting to work on my queer middle grade rec list, I have another book by Kheryn up on my review stack (erm, virtual review stack, it's an earc) and I'm really excited about both of them.
That's a good start for me! I'll include other books, I'm sure (I do have a large stack I'm working on), but for now I'm satisfied with this to cover my basis, plus some. I might switch things around as I feel like it, but this is a good place to start.
Tell me about what you're planning to read this summer!
Peace and popsicles,
Laina