The Book Blogger Hop was originally created by Jennifer from Crazy-For-Books and is now hosted by Billy of
Ramblings of a Coffee Addicted Writer
.
This week's question is: If you were stranded on a deserted island, which ONE book could you not live without?
Now, my answer to this always really boring, because I'm weird like that.
How to Survive on a Deserted Island by Tim O'Shei
Summary (from goodreads):
If a shipwreck or a plane crash lands you on a deserted island, you might think your troubles are over. Think again! How to Survive on a Deserted Island will tell you how to find drinkable water, catch food, and signal rescuers that you need help.
Seriously, I want something that's going to tell me what to do and how to survive and you know, not die. And also how to get
off
the deserted island.
Now, since I'm super boring, I decided to outsource this one, and turn it into a Queer Summer Reading post. So!
I asked other people to answer this for me! And here are the answers I got:
Pride and Prejudice by Jane Austen
Summary (from goodreads):
'It is a truth universally acknowledged, that a single man in possession of a good fortune must be in want of a wife.' Thus memorably begins Jane Austen's Pride and Prejudice, one of the world's most popular novels. Pride and Prejudice--Austen's own 'darling child'--tells the story of fiercely independent Elizabeth Bennett, one of five sisters who must marry rich, as she confounds the arrogant, wealthy Mr. Darcy. What ensues is one of the most delightful and engrossingly readable courtships known to literature, written by a precocious Austen when she was just twenty-one years old.
Humorous and profound, and filled with highly entertaining dialogue, this witty comedy of manners dips and turns through drawing-rooms and plots to reach an immensely satisfying finale.
Anna said:
This is a really tough question! Despite many contenders, I think it would be Pride and Prejudice by Jane Austen (just in case there's another P and P floating around). It's one of my most re-read books, and Charlotte Lucas is one of the first aromantic characters I was exposed to.
Anna a cis quoiromantic ace from Canada. She's mostly just a lurker online, and doesn't get as much of a chance to read as she'd like.
Ruin of Stars by Linsey Miller
Summary (from goodreads):
As Opal, Sal finally has the power, prestige, and most importantly the ability to hunt the lords who killed their family. But Sal has to figure out who the culprits are before putting them down. Which means trying to ignore the fact that Elise is being kept a virtual prisoner, and that the queen may have ulterior motives.
And the tales coming out of north are baffling. Talk of dark spirits, missing children, and magic abound. As Sal heads north toward their ruined homeland and the lords who destroyed everything, they learn secrets and truths that can't be ignored.
Avery says:
I'd find it hard to survive with just ONE book, but if I had to choose--Mask of Shadows by Linsey Miller. Or, actually, I would want the sequel, Ruin of Stars. Both books are beautifully written, and I love all of the characters to pieces. The reason I'd want the sequel, though, is because everything from the first is fully developed and flaunting it by the time RoS comes around. Sal is brutal and doesn't shy back from who they are. I sleep with RoS under my pillow, so its fairly hard to describe how much this duology means to me.
Avery is an 18 year old book blogger, reviewer, and writer. They blog at Book Deviant where they talk about and promote diverse books.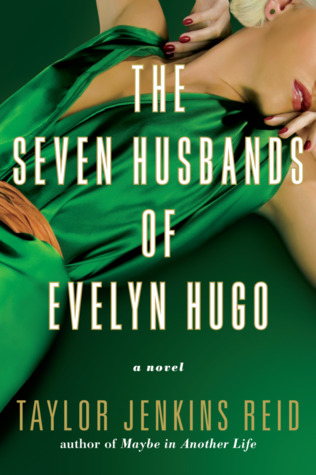 The Seven Husbands of Evelyn Hugo by Taylor Jenkins Reid
Summary (from goodreads):
Evelyn Hugo is finally ready to tell the truth about her glamorous and scandalous life. But when she chooses unknown magazine reporter Monique Grant for the job, no one in the journalism community is more astounded than Monique herself. Why her? Why now?
Monique is not exactly on top of the world. Her husband, David, has left her, and her career has stagnated. Regardless of why Evelyn has chosen her to write her biography, Monique is determined to use this opportunity to jumpstart her career.
Summoned to Evelyn's Upper East Side apartment, Monique listens as Evelyn unfurls her story: from making her way to Los Angeles in the 1950s to her decision to leave show business in the late 80s, and, of course, the seven husbands along the way. As Evelyn's life unfolds through the decades—revealing a ruthless ambition, an unexpected friendship, and a great forbidden love—Monique begins to feel a very a real connection to the actress. But as Evelyn's story catches up with the present, it becomes clear that her life intersects with Monique's own in tragic and irreversible ways.
Mars says:
I would definitively want to bring The Seven Husbands is Evelyn Hugo by Taylor Jeinkens Reid. It is one of those thicker volumes but a very rereadble book that I love to flip through and pick out my favorite quotes and scenes and quietly reflect on it. It would fill my time whilst being stranded on that desert island, because it's truly such an extraordinary book that blows everything else that I've ever consumed out of the water(hehe beach puns amiright xD) I would highly recommend giving it a try this summer, because it does have a Cuban bisexual MC and explores Old 50-60s Hollywood through a unique perspective and written in a very interesting format. Perfect pick for this years Queer Reads Summer program!
Mars is a queer teenager who occasionally blogs at Lollipops Books and can be found chatting on Twitter @wildmoonchildz.
And then I asked Luci to answer this. Since I knew their answer would be Chameleon Moon, I technically am writing this before they've answered, because... we all know their answer is Chameleon Moon.
Chameleon Moon by RoAnna Sylver
Summary (from goodreads):
The city of Parole is burning. Like Venice slips into the sea, Parole crumbles into fire.
The entire population inside has been quarantined, cut off from the rest of the world, and left to die - directly over the open flame. Eye in the Sky, a deadly and merciless police force ensures no one escapes. Ever. All that's keeping Parole alive is faith in the midst of horrors and death, trust in the face of desperation… and their fantastic, terrifying, and beautiful superhuman abilities.
Luci* says:
Chameleon Moon is literally the only book I ever think of (besides Laina's books, of course) and I love it more than most people love their children. It's literally perfect and you should read it because otherwise what even is the purpose of your life. Also my dog is the best dog.
*Luci took too long to get back to me, so I may have taken some liberties so I could schedule this and go to sleep.
Luce is an acearo enby who did not get their butt around to writing their bio fast enough so they're forfeiting the right to do so, and I am doing it for them. They once nearly had a heart attack from the end of Poltergeist, they have a beautiful dog, and they have awesome hair. Find them on twitter @soveryqueer.
That was much more interesting with other people involved!! Thanks for playing, everyone.
If you'd like to guest post for Queer Summer Reading (we really want more rec lists especially, and posts from queer bloggers of colour), check out
this post
!
Thanks for reading!
Peace and popsicles,
Laina